After Governor Cuomo Begged For Help – Now He's Saying He Doesn't Need The Navy Hospital Ship Comfort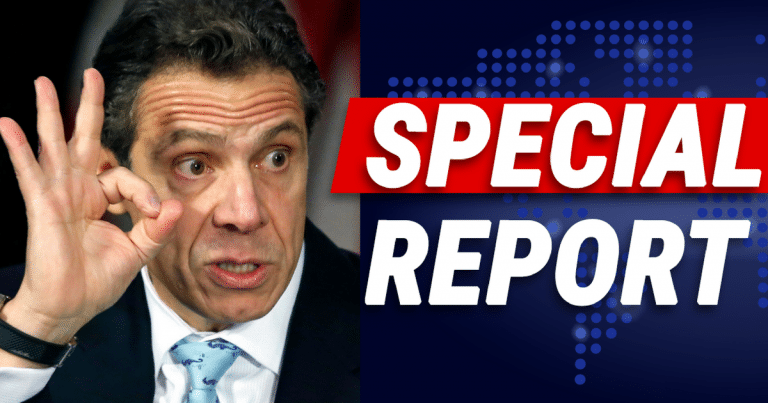 As the virus outbreak spread, the Democrat governor of New York begged for help. He demanded President Trump pull out all the stops to send the state help.
The president acted quickly, sending aid in the form of PPE, ventilators, and more. Yet he was still criticized by the media (and at times, Cuomo) for "not doing enough."
Trump even sent the Navy hospital ship Comfort to the city—and got it there fast. But now look at what's happening.
From the Navy Times:
A Navy hospital ship deployed to New York City to help fight the coronavirus outbreak is no longer needed, Gov. Andrew Cuomo said Tuesday, expressing confidence that stresses on the hospital system are easing.
Oh, really!? Cuomo claimed tens of thousands of New Yorkers would die because the hospitals would be overwhelmed.
Trump sent the Navy ship to meet the need. But now Cuomo wants to send it away because New York hospitals can easily accommodate the sick.
In fact, according to one report, 90% of the ship wasn't even used.
From CNBC:
The USNS Comfort hospital ship holds fewer than 80 patients in New York City, leaving nearly 90% of its available space unused after its emergency dispatch to the U.S. epicenter of the coronavirus crisis.
President Trump even said, "They didn't need it." While that's a relief in the grand scheme of things, it's put things into perspective, doesn't it?
All through the month of March, the media was predicting the End of All Things. America was forced into an economic shutdown to prevent disaster.
President Trump and the federal government scrambled to provide aid to New York. It was the hardest hit, but "experts" predicted much worse.
But as of this writing, the Navy ship only used 71 of its 500 beds.
Hmm… I'm no expert, but I think area hospitals could have accommodated 71 additional patients.
Nobody is saying this pandemic wasn't a real and terrible crisis. We know that many Americans have died due to it.
But we have to stop and wonder why Cuomo (among others) demanded so much, based on so little data?
Millions of New Yorkers are out of work. Countless dollars have been lost from the economy. And NY hospitals never reached maximum capacity.
SHARE if you think New York may have overreacted.
Source: CNBC, Navy Times