After Cuomo Blames Trump For Ventilator Shortage – Donald Swings His New York Closet Wide Open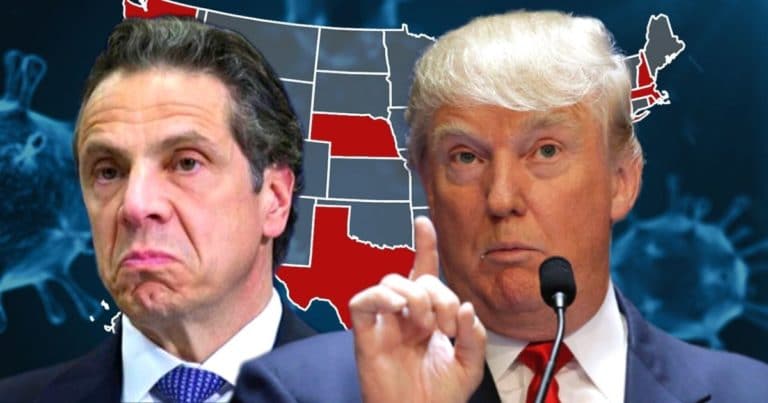 Thanks to this crisis, many liberal governors have been forced to cooperate with Donald Trump, but they still want to blame him.
A man they frequently attack, they have recently praised and thanks. That includes New York Gov. Andrew Cuomo, who had launched lawsuits against the president.
But Cuomo recently made a stunning charge against Trump. He accused Trump of not sending enough ventilators to the state. For some reason, New York has a shortage.
Well, Trump wasn't about to put up with that. And he's firing back.
From Fox News:
"New York governor Cuomo rejected buying for a pandemic," Trump said during a Fox News town hall… "He had 16,000 he could have had and didn't buy them."

Instead of buying the ventilators in 2015, [Cuomo's] task force created a priority system for who would be put on a ventilator – red being the most dire, blue being the least – and assigned a triage officer, or "death panel" as Trump said, to make the life-or-death decisions.
Just a few days ago, Trump mentioned the ventilators the federal government sent to New York.
Yet Cuomo and the Democrats say Trump isn't doing enough, because they need more.
But, hang on! Why does of state of over 8 million people not have enough of this vital medical equipment?
Perhaps it has something to do with that Cuomo did back in 2015? He had a task force assess the number of ventilators it had.
They found that they needed around 18,000 of them, in case of a pandemic. Instead of buying them back then, when they were cheaper, they said no.
Cuomo's team instead decided to create a "priority system" for who should deserve a ventilator. Pretty scary, huh?
People who needed, life-saving assistance might be denied, because Cuomo was too cheap to buy equipment.
This crisis has revealed the caliber of leadership in our country. Some Democrats have claimed Cuomo is doing so well, he should be nominated as a presidential candidate.
Really? Then why is he trying to blame Trump for his own failure? Seems to me a good president wouldn't do that?
SHARE if you stand with President Trump, not Gov. Cuomo.
Source: Fox News