Days Before 2020 Election, Media Buried The Hunter Biden Story – Now That It's Over, They're Reporting Hunter's Federal Investigation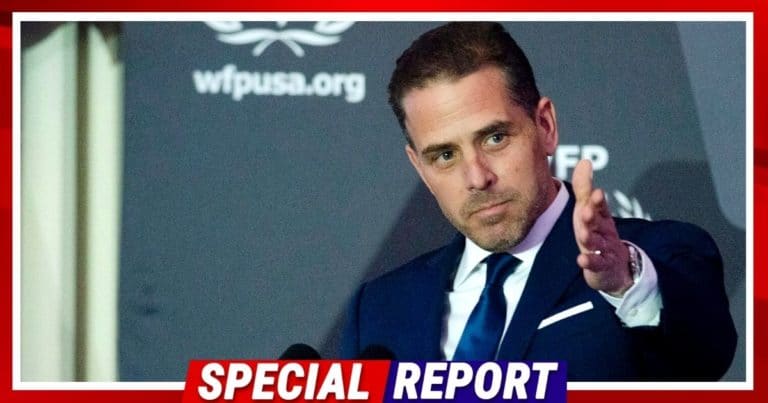 What's Happening:
In the weeks leading up to the election, we were only a handful of outlets that reported on accusations surrounding Hunter Biden. Social media and the MSM did everything they could to silence us.
They even flagged links to these articles as "spam" or censored them outright—including articles from the New York Post.
Jump ahead to today—and Biden "won" four key states in very close races that may have turned on critical information about Hunter Biden. And now, those same outlets who ignored Hunter Biden's scandals are talking about them all day long.
From Fox News:
There has been plenty of criticism in recent days of the mainstream media's refusal to cover the New York Post's bombshell reporting on Hunter Biden ever since the Biden transition issued a press release acknowledging that he was under investigation over his so-called "tax affairs," but the media went far beyond simply ignoring the controversy…

Back in October, Politico published a joint letter signed by "more than 50 former senior intelligence officials," who insist that the published emails that allegedly came from Hunter Biden's laptop had "all the classic earmarks of a Russian information operation."
When news broke that Hunter Biden's laptop was at the center of an FBI investigation, the media went out of their way to ignore it.
Those who didn't ignore it, claimed it was "Russian disinformation," quoting anti-Trump swampers like John Brennan and James Clapper.
Again and again, the media pretended like the Hunter Biden story was either unimportant or non-existent.
Today, we know that more than one federal investigation is against Hunter. One of them involves possible tax fraud on the part of Joe Biden's son.
The media is no longer afraid to report on this because they think they've "won."
It's not clear what would have happened if the MSM bothered to do their job back in October. But we shouldn't be surprised that they buried this news.
The mainstream media is not in the business of reporting the news. They are more interested in pushing narratives that help their agenda. Given their liberal slant, you can guess what that agenda is.
Now, it seems like they have nothing to lose, so they are talking about Hunter as more news comes out.
But something tells me they are going to regret betraying the American people like this.
Key Takeaways:
Before the election, the MSM ignored the Hunter Biden laptop scandal.
Many outlets even suggested it was Russian disinformation.
Today, they cover it extensively, as if they never buried it months ago.
Source: Fox News