Days After The General Election Kicks Off – Joe Biden Is Already Facing A Wide, Deep Chasm In Finances Against Trump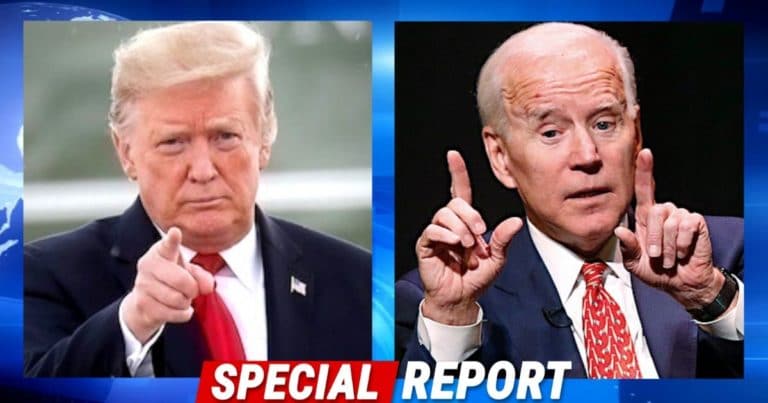 The day Bernie Sanders decided to end his campaign (for the second time), the real 2020 race kicked off.
Joe Biden is the presumptive Democrat nominee. And big-name Democrats started to endorse him. Including non-other than the man who ensured Trump's 2016 victory, Barack Obama.
But something doesn't seem to be lining up for o' Joe. And he is facing a serious disadvantage to the president.
From Fox News:
After accounting for debt owed by the DNC, Biden and the DNC have a combined $57 million cash on hand as of the end of March. That pales in comparison to the $240 million the Trump campaign and RNC had in the bank at the end of March, according to a release from the Trump campaign earlier this month.
Ouch! After getting Bernie to drop out, Joe Biden and his party were able to raise $46.7 million for the campaign.
Oh, that's cute. In fact, it's the best month of fundraising he's ever had. (I guess all those  candidates who dropped out were better at raising money.)
But when you account for the party's debt, Joe and the DNC only have $57 million on hand.
Trump? He and the GOP have a whopping $240 million in the war chest.
So, on top of the fact that Trump's the incumbent, his strong (and enthusiastic) base, and an impressive record, he's got millions more than Sleepy Joe.
Even during this pandemic, President Trump is shining. His leadership has helped us battle the invisible enemy.
And his plan to reopen America will bring us back from the brink.
Keep in mind, Trump's fundraising efforts haven't targeted the big-pocket elite. The vast majority of his cash comes from regular Americans like you and me.
Even during a crisis, Trump supporters around the country are opening their wallets.
That should make Joe Biden very nervous. If he knows what's going on at all…
SHARE if you think Trump will beat Biden in a landslide.
Source: Fox News