Days After Pelosi Passes Impeachment – Nancy Is Forced To Give In On Trump's Signature Deal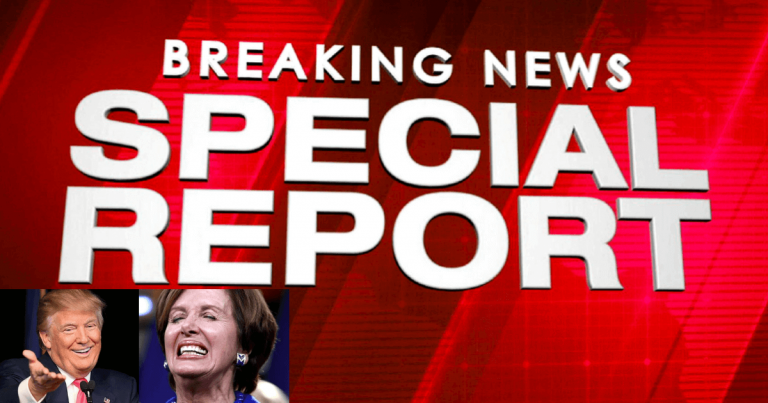 Nancy thought she won 2019 – looks like she lost!
Despite Democrat opposition and the media, Trump continues to win for the American people.
He might be doing more than even he could have dreamed. His reforms have made floor to ceiling improvements to our country.
The economy is booming and our stock market keeps hitting new highs. Even impeachment is working to his advantage. Supporters are breaking fundraising records and Democrats are facing virtual destruction in 2020.
On top of that, Pelosi had to give in on Trump's biggest push in 2019.
From Axios:
The House voted 385-41 Thursday to pass a revised version of the U.S.-Mexico-Canada Agreement (USMCA), a trade pact President Trump negotiated to replace the North American Free Trade Agreement…

Completing the trade deal has been one of President Trump's biggest policy goals in 2019.
This week, the House approved Trump's landmark trade deal, the USMCA.
This deal eliminates the toxic NAFTA, which was signed by Bill Clinton and contributed to thousands of jobs going overseas.
This new deal protects American businesses and workers. And it ends policies that put us at a disadvantage around the world.
It is a reality, because of Trump's masterful ability to make deals—even with his enemies.
Don't buy that? Look at who voted for this again. 385-41. That includes most of the crooked people who voted for impeachment.
Even they and their leader Pelosi had to agree USMCA was a big win for this country.
Funny how it only happened when Trump was in office. Obama never bothered with this kind of deal.
You'd think Democrats would be thanking Trump for putting our workers first. Hardly.
Pelosi might want to take credit for this deal, but as she defied the president, he was doing the hard work.
And he continues to work hard to put Americans first. Meanwhile, Democrats put everyone else first.
SHARE to thank President Trump for getting Americans a much better deal!
Source: Axios