Manchin Just Betrayed Biden on Critical D.C. Issue – He Joins McCarthy To Tackle America's Biggest Problem: The Debt Ceiling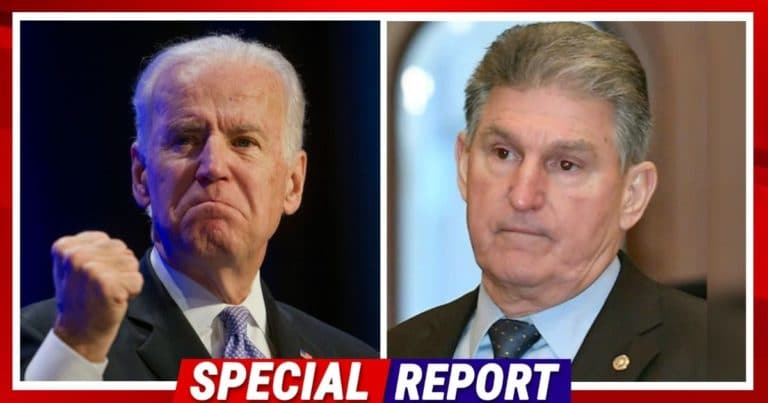 What's Happening:
The White House continues to refuse to negotiate with Republicans over the debt ceiling. This issue won't go away and, in a few months, could bring the U.S. government to a standstill. Biden does not have the votes in the House to force through his agenda. So, he will probably delay the issue until he has no other option.
But it looks like he just lost a few months. Democrat Sen. Joe Manchin has long criticized Biden's reckless spending agenda. He has called on his party to make changes to help Americans in the midst of raising inflation. And now, he is siding with Republican House Speaker Kevin McCarthy. Manchin just dropped the floor from beneath old Joe.
From Breitbart:
Sen. Joe Manchin (D-WV) stated that House Speaker Kevin McCarthy's approach to the debt ceiling is "most reasonable" and argued that spending reductions of 5-10% across the board should be explored…

"Kevin and I had a nice conversation a couple of weeks ago. And I think he's most reasonable taking the approach, can't we at least recognize 31.5 trillion is unmanageable and we shouldn't be passing on to our children and grandchildren, we're writing checks they can't cash."
Woah. The moderate Democrat sided with Kevin McCarthy, agreeing that major spending cuts need to be made. If Biden expects to keep running the government, he's going to have to sit down with Speaker McCarthy and agree to a deal.
If Biden doesn't, then the government will shut down in June. Some experts predict that the entire economy could collapse if the government defaults on its obligations. Thanks to Joe Biden's reckless spending, Congress burned through the cash it actually had.
Most of Biden's spending programs work off of debt. Debt that he has no way of paying back. If we run out of credit, so to speak, the government stops functioning. And a ripple effect will hurt major industries.
Smart leaders would have had a deal by now. But Joe Biden refuses, hoping McCarthy will do what Mitch McConnell does every time and fold. McCarthy doesn't appear willing to do that. And even Joe Manchin is siding with him on spending cuts.
Biden will have to agree to major spending cuts if he wants to keep the lights on (literally). If he was smart, he'd do it today. But, he'll probably drag this out until June, putting millions of Americans' livelihoods at risk.
Key Takeaways:
Manchin sided with Speaker McCarthy that spending cuts are needed.
Joe Biden has refused to negotiate with House GOP, even though they have the majority.
Biden's spending has brought America to the brink of ruin, thanks to the deficit.
Source: Breitbart