After Congress Hits $31 Trillion Debt Ceiling – The White House Quickly Demands the Need to Cut American Pensions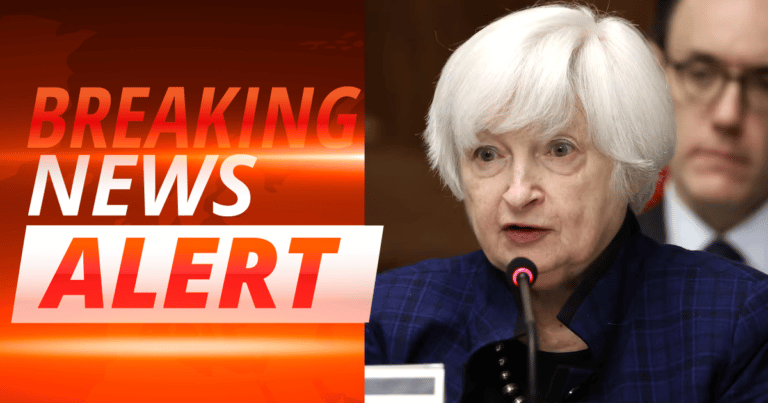 What's Happening:
Democrats refused to come back to work. Biden refused to negotiate. So, this week, the United States government hit its $31 trillion debt ceiling. That means it no longer has borrowing power to pay for all of Biden's reckless spending demands. Unless Congress can negotiate raising the ceiling, major cuts need to be made if the government wants to survive.
So, where will the cuts be made? How about all that aid Biden is throwing to an endless war in Ukraine? Or, maybe he should stop rewarding Big Pharma by buying more and more COVID vaccines (when nobody wants them)? Nope, Biden's treasury secretary is instead demanding cuts to… wait for it, working Americans' pensions!
From The Post Millennial:
Yellen warned of the imminent debt debacle in a letter to Congressional leaders last week. She explained that the measures needed would include "redeeming existing, and suspending new, investments of the Civil Service Retirement and Disability Fund (CSRDF) and the Postal Service Retiree Health Benefits Fund (Postal Fund)," and also suspending "reinvestment of the Government Securities Investment Fund (G Fund) of the Federal Employees Retirement System Thrift Savings Plan."
What a load of bull! Biden sent $44 billion to Ukraine and promises to give as much as $100 billion–with no evidence Ukraine will ever pay that back. Biden has spent another $475 million to pay for more COVID boosters.
But where does Yellen want to make the cuts? From hard-working civil servants' pensions and retirement funds. Can you believe this? Biden and his goons are so corrupt, they'd rather rob Americans who served the government for years, than cut back on paying special interest groups.
Big Pharma has enough money to bankroll retirement funds for millions of Americans. Yet it is getting billions from Biden. Meanwhile, postal workers might not get their retirement funds. And civil service workers with disabilities might get the shaft.
You can see what Yellen is trying to do. She is picking these funds to make cuts to, to guilt Congress into hastily raising the debt ceiling. House Republicans made it very clear, they will not raise the debt ceiling without making cuts to Biden's pet projects.
That means cuts to entitlement programs and money thrown at big businesses. Not cuts to retirement funds. But Yellen is perhaps the worst Treasury Secretary we've ever hand. She is only carrying water for a corrupt administration that is mortgaging America's future–to enrich globalists and big businesses.
If we are going to cut anything… how about cutting this bloated crook's paycheck?
Key Takeaways:
The U.S. hit a $31 trillion debt ceiling, prompting the Biden admin to recommend cuts.
Treasury Secretary Janet Yellen wants to cut retirement programs for civil servants.
This comes as Biden spends billions on a foreign war and COVID boosters from Big Pharma.
Source: The Post Millennial