GOP's Debt Victory Just Secured 1 Huge Bonus – Liberals Can't Believe Joe Let It Happen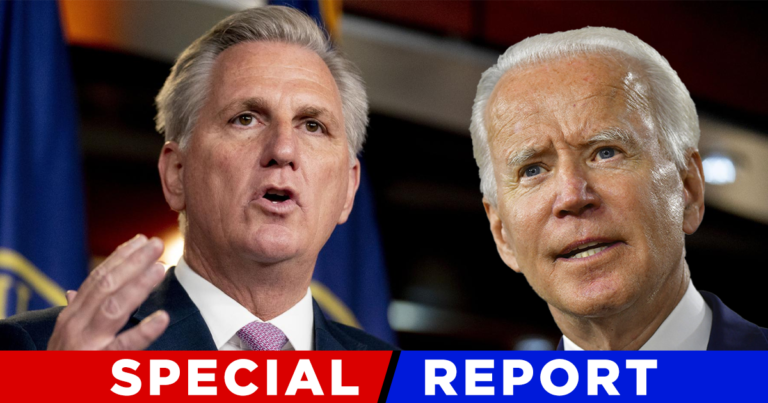 With the nation teetering on the brink of a massive default, House Speaker Kevin McCarthy and President Biden had to nail down a debt ceiling agreement.
Thankfully, it happened in the nick of time — but Democrats didn't get what they wanted, and Republicans are cheering a significant victory.
Biden called the agreement a "compromise" and while the GOP didn't get everything on their wish list, it seems apparent that the left had to sacrifice more agenda items than they would've hoped.
And they're definitely raging about one major bonus Republicans picked up with this landmark agreement.
It will especially annoy those who keep pushing the "Green Agenda" because it involves giving the go-ahead for a new pipeline, situated between West Virginia and Virginia.
From Fox News:
The highly-anticipated debt ceiling package House Republicans and President Biden announced on Sunday includes a provision fast-tracking a massive 303-mile West Virginia-to-Virginia natural gas pipeline project for approval.

The unexpected carveout green-lighting the billion-dollar Mountain Valley Pipeline — which is 94% complete, but has been mired in a lengthy permitting process for years — was immediately cheered by West Virginia lawmakers who have touted the project's expected economic benefits for years.
This pipeline will bring 2,500 construction jobs and $40 million in tax revenue to West Virginia, and Virginia will net up to $250 million in royalties for W.V. landowners.
Sen. Shelley Moore Capito (R-W.V.), a ranking member of the Environment and Public Works Committee, said she's "thrilled" that this was included in the debt ceiling package.
Sen. Joe Manchin (D-W.V.) also celebrated the win, as he was the first person to introduce legislation to complete the Mountain Valley Pipeline:
I am pleased Speaker McCarthy and his leadership team see the tremendous value in completing the MVP to increase domestic energy production and drive down costs across America and especially in West Virginia.

I am proud to have fought for this critical project and to have secured the bipartisan support necessary to get it across the finish line.
When finished, the pipeline should be able to yield 2 billion cubic feet per day of natural gas.
Rep. Carol Miller (R-W.V.) added that it will "create more jobs, lower energy costs, and protect our environment." She also said it was a "bipartisan win for every American."
The deal still has to pass through the House and Senate, though even Democrat leaders are urging their colleagues to let it go through.
A default is the last thing this country needs, so getting the debt ceiling package approved should be priority #1 for politicians on Capitol Hill right now. Though some leftists are still likely to whine.
Many will say that producing critical energy in this country is something we should've been doing from the start, anyway.
And at this point, it seems like a perfectly viable idea, and would be hugely beneficial for the economy and the environment, especially as we can avoid shipping fuel from overseas.
Key Takeaways:
The debt ceiling package features a big win for Republicans: the Mountain Valley Pipeline.
It will yield 2 billion cubic feet per day of natural gas, and deliver jobs and tax revenue to West Virginia and Virginia.
Se. Joe Manchin applauded the decision, and Rep. Carol Miller called it a "bipartisan win for every American."
Source: Fox News