Blue City Mayor Throws Desperate Hail Mary – Nobody Has Ever Heard a Liberal Say This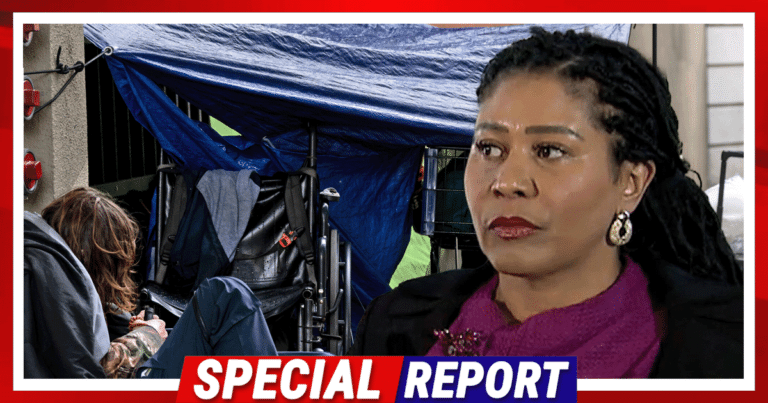 What's Happening:
You are probably well aware of how bad things are getting in most major U.S. cities. Poverty, homelessness, drug addiction, and other factors have led to many downtowns becoming wastelands. Countless stores are shutting down, leaving communities without jobs or services. And all signs point to it getting worse, not better.
The single factor uniting all these cities is Democratic leadership. Radical leftists have implemented extreme policies that are driving this decline. One of these leaders, the mayor of a major blue city, proposed a Hail Mary move to save her city.
From Breitbart:
During a portion of an interview with CNBC's Deirdre Bosa aired on Wednesday's broadcast of "The Exchange," San Francisco Mayor London Breed stated that if she could, she "would get rid of most taxes on the books" tomorrow in order to help attract business to the city and argued that the tax system needs a complete overhaul so it works for the city and businesses.
Really? Mayor of San Francisco London Breed claimed she'd get rid of all taxes to bring back businesses to the collapsing city. She almost sounded like a Republican when she said she wanted to make the tax system better for businesses. But she used the leftist buzzwords "fair" and "equitable," so we doubt she'll ever do it.
Funny how she's willing to go to such lengths to claw back some business. Meanwhile, the very thing SF needs to survive, she declines. She said she wants to make the "streets and city" clean and safe. Yet she refuses to reverse policies that defunded the police, decriminalized shoplifting, and vandalism, and allows drug addicts to live in public spaces.
The reason San Francisco is declining is because Democrat leadership has gone to war with law and order. They refuse to let police actually protect the city. So, crime is out of control, homelessness is an epidemic, and businesses are fleeing.
You can bring taxes to zero. It won't matter. Businesses and residents won't stick around when their cars are being broken into, stores are being robbed, and the streets have become tent cities full of crazed drug addicts.
Breed is partly responsible for turning San Francisco into something worse than a third-world country. Until every last Democrat is voted out, it won't get any better.
Key Takeaways:
San Francisco Mayor London Breed claimed she'd get rid of all taxes to bring back jobs.
The blue city is in decline, thanks to radical anti-police and pro-criminal policies.
Breed made no mention of supporting law and order by increasing police presence.
Source: Breitbart