Democrat "Civil War" Boils Over – AOC Accuses Queen Pelosi Of Liberal Sin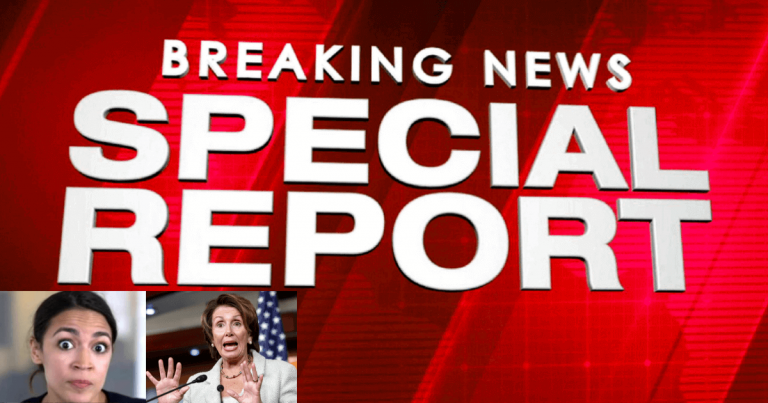 AOC just hit Pelosi way below the belt!
Looks like Alexandria Ocasio-Cortez is single-handedly starting a civil war in the Democratic Party.
AOC, with her far-left views, is unwilling to listen to the party's leaders. She has a couple of sidekicks, but AOC's clearly trying to take authority from Pelosi herself.
This freshman thinks she knows what's best for the party—and for the country. Despite a shocking lack of experience and even basic facts.
Pelosi is fighting back, trying to put the freshman in her place. Now, AOC's has gotten really nasty.
From Fox News:
The public spat between Rep. Alexandria Ocasio-Cortez, D-NY, and Speaker Nancy Pelosi, D-Calif, got a lot nastier on Wednesday, with the freshman congresswoman suggesting that the speaker is "singling out" her and her colleagues based on their race.
Woah. AOC is trying to play the race card by accusing Pelosi of attacking women of color.
We shouldn't be surprised that AOC is going low. For a long time, Democrats have placed race and gender above factors like experience and knowledge.
And while Pelosi can play the female card, she's still white. And that makes her a prime target for these kinds of accusations.
In my opinion, I'm surprised it's taken this long for AOC to pull this kind of stunt. The woman is clearly out of her depth in Congress.
Her behavior is stunningly immature. She is totally out-of-touch with her own district, let alone the rest of the country.
She keeps embarrassing herself in front of the whole world.
The only thing left for her to do to protect her tattered reputation is turn on her own party. Now, she's accusing Pelosi of the worst liberal sin—just because she disagrees with AOC!
Sounds pretty familiar. Democrats like Pelosi have accused Trump and conservatives of this for years, just because we disagree with them politically.
Now she's getting a taste of her own medicine. I doubt it tastes good.
SHARE if you think Pelosi and AOC are losing it for good!
Source: Fox News