The Blue Wave Just Crashed Hard – Democrat Debate Ratings From Last Night Are In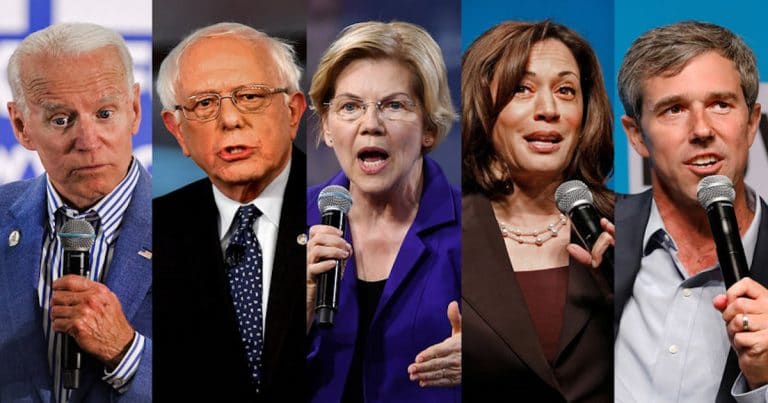 Ouch!
This week the American people had to suffer through two nights of liberal bickering.
Over 20 Democratic primary candidates appeared on TV, and tried to convince America they're better than Donald Trump.
Among the technical problems, cross-talking, and generally boring arguments, these candidates laid out their socialist plans for the country.
You'd think, with all the "hate" this country has for our current president, Americans would be bellying up to their TV's to watch this circus.
Turns out, though … not so much.
From Daily Caller:
"Roughly 10 million viewers tuned in for the debate, according to the Hollywood Reporter.

The numbers easily surpassed previous debate ratings from the 2008 Democratic primary, but fell short of the first Republican debate in 2015.

The first Republican debate in the 2016 election cycle brought in a record 24 million viewers on Fox News Channel."
Wow. The first night of debating brought in only 10 million viewers. Really?
In contrast, the Republican debates of 2015 brought in a staggering 24 million viewers.
Well, it's important to note that the GOP debates were on Fox News—the leading news network in the country.
While on the other hand, Democrats chose to air their debate on the NBC Network, which undoubtedly hurt their viewer numbers.
But even more important is the following fact: this low number contradicts everything the left says about our country.
They claim Trump supporters and conservatives are in the vast minority (despite Trump winning in a landslide in 2016).
However, if the majority of the country really is Blue, why did only a measly 10 million bother to watch this oh-so-important debate…?
In a country of over 300 million people, you'd think they could get at least 10 percent to watch, right?
Seems like most Americans aren't even willing to turn on their TVs to see what these clowns had to say.
Meanwhile, thousands line up for DAYS before a Trump rally, just to catch a glimpse of the man.
Just imagine how many people will watch the 2020 debates, when Trump squares off with the liberals!
SHARE if you're ready for Trump to crush the Democrats!
Source: Daily Caller