Democrats Stunned By Biden's Shock Move – the Coward Dares to Do This Days Before America Defaults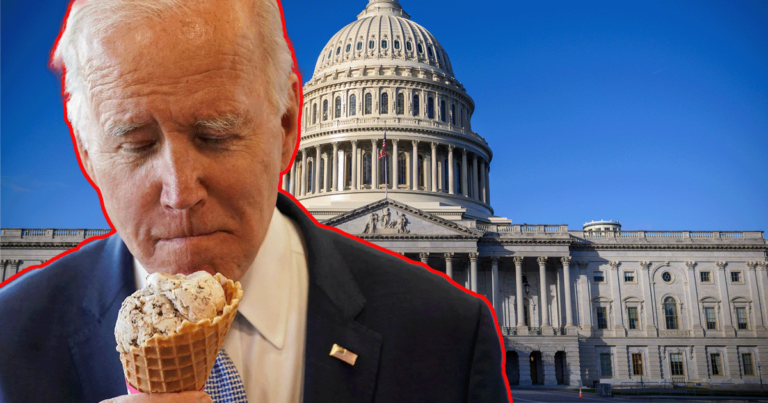 What's Happening:
If you haven't heard by now, Congress and Biden haven't made a deal to raise the debt ceiling. Economists are predicting that, come June, the United States will default for the first time in our history. What does that mean? We're not quite sure, but most believe it will trigger a massive recession.
So, why isn't Biden more concerned about this?
Republicans in the House passed a bill that will raise the debt ceiling and make necessary spending cuts. Biden, however, has refused to compromise–even though he has no other choice. He foolishly demands Congress to give him the bill he wants, like a dictator. And now, even Democrats are shocked over what he just did… days before default hits.
From Daily Wire:
According to a new report, multiple Congressional Democrats are in complete disbelief that President Joe Biden is going to ditch Washington, D.C., for Memorial Day Weekend — even as the U.S. is just days away from defaulting on its debt…

"Please tell me that's not true," said another lawmaker to POLITICO. "You're going to see a caucus that's so pissed if he's stupid enough to do that."
Uh… yes, he did do that. Joe Biden left Washington early to celebrate Memorial Day at Camp David. He is MIA, while the nation stumbled toward defaulting. Meanwhile, Kevin McCarthy has been in Washington all this week, speaking to the nation about what is going on.
For Biden to skip town is predictable. He's been out of Washington nearly 25% of the time. But it is no less galling. Even Democrats are disgusted that Biden is out of town when disaster looms so close.
I guess that's what happens when you elect a senile old man who is totally unfit for office!
Democrats wanted a puppet who would rubber-stamp their agenda. But when it comes time for real leadership in the Oval Office, they are lost at sea. Joe Biden is unwilling or incapable of brokering a deal with Republicans.
He is coming off as a crotchety old man that refuses to budge, even though he is single-handedly destroying the U.S. economy. When aren't more Democrats waking up and pressuring Joe to do something?
They are grumbling right now, but if they don't move fast, they are sure to implode.
Key Takeaways:
Democrats are outraged that Biden left D.C. just days before the debt ceiling deadline.
The U.S. government will default on its loans in June because Biden refuses to make a deal.
Joe left for an early long weekend, instead of sticking around to get the job done.
Source: Daily Wire