Democrats Take Away Troop Pay – So Trump Personally Drops Anvil On Them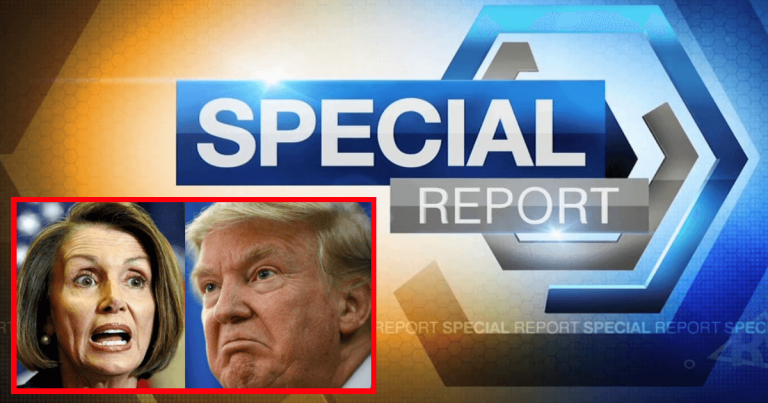 Donald won't let Democrats use this shutdown to hurt our military, so he gave them a New Year's gift.
With each passing day, we can't believe anyone voted for the Democrats in 2018.
Because of these crooks, federal employees aren't getting paid (through the holidays!).
Democrats refused to work with Trump, so the Coast Guard, unlike the rest of our military, isn't getting a paycheck but they still have to work.
So the president jumped into action personally. Thankfully, because of him, the Coast Guard won't be left in the lurch.
From Washington Examiner:
Concerned about U.S. Coast Guard forces losing a paycheck in the partial government shutdown, President Trump personally urged his team to find a solution that would allow the administration to make this week's $75 million payroll, according to officials…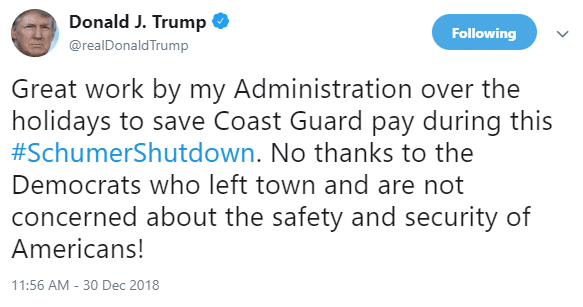 "Great work by my Administration over the holidays to save Coast Guard pay during this #SchumerShutdown. No thanks to the Democrats who left town and are not concerned about the safety and security of Americans!"
SHARE to thank President Trump for fighting Democrats to pay our Coast Guard!
How many times do we have to say that Democrats don't care about Americans?
They go out of their way to help border jumpers—even criminals—but won't raise a finger to help our military.
This government shutdown is hurting hard-working Americans. Families are struggling.
Yet Pelosi and Schumer enjoyed lavish, comfortable holidays. I guarantee you they weren't worried about the thousands of federal employees suffering these last few weeks.
President Trump? He stayed in Washington over Christmas and New Year's to find a solution.
He wants the shutdown to end, but he won't sacrifice his promise to build the wall. So he performed a miracle of sorts to ensure the Coast Guard can continue to protect our country.
That tells you everything you need to know about our president. And everything we need to know about the scum in the Democratic Party.
It's about time America knew what crooks the liberals truly are.
SHARE to thank President Trump for fighting Democrats to pay our Coast Guard!
Source: Washington Examiner