Governor DeSantis Triggers Liberal Floridians – He Just Showed Off the State's New Freedom License Plate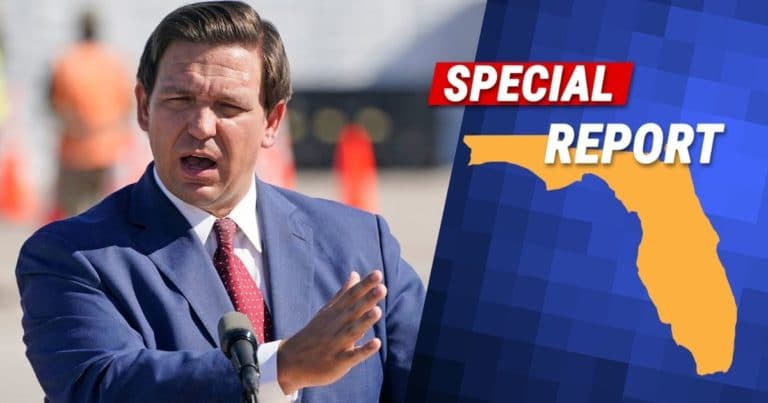 What's Happening:
Democrats have grown increasingly angry at Florida. It probably has something to do with Gov. DeSantis changing it from a "swing" state to a proud red one.
But the triggering will soon get worse. DeSantis released a license plate that will help veterans. It includes an image long hated by the left.
From Twitter:
— Ron DeSantis (@GovRonDeSantis) July 30, 2022
The free state of Florida has a new license plate for pre-order that benefits the Florida Veterans Foundation and sends a clear message to out-of-state cars, "Don't Tread on Me" or Florida.
Gov. DeSantis revealed a new license plate that will help fund the Florida Veterans Foundation. Proceeds from these plates will help Florida veterans in need.
A worthy cause, to be sure. Why wouldn't any resident not want to buy one of these plates?
Oh, wait. The plates include the famous "Don't Tread on Me" flag from the Revolutionary War.
Although this is a timeless symbol of American heritage, for some reason liberals hate it.
These days, the left has accused this symbol of being used by "far right" and other "radical" groups.
In reality, this symbol has long been associated with the American military and our quest to fight for freedom at every turn.
Many patriots use this flag to represent the spirit of liberty connecting us to our history and legacy.
Yet Democrats don't appreciate how the "Don't Tread on Me" flag encapsulates our freedom.
Instead, they hate it as much as a red cap with the letters "MAGA" on it.
Isn't it strange how leftists are so quick to disgrace a flag that instantly connects us with the heroes of the Revolution?
The same heroes they call evil and racist, these days?
It's almost as if they want to whitewash our history.
Key Takeaways:
Florida Gov announced a new "Don't Tread on Me" license plate.
The plate will help fund the Florida Veterans Foundation.
This flag has long been hated by liberals, though it is a patriotic symbol.
Source: Twitter