DeSantis Unloads Triple-Whammy on Trump – Even Donald Didn't Think He'd Go This Far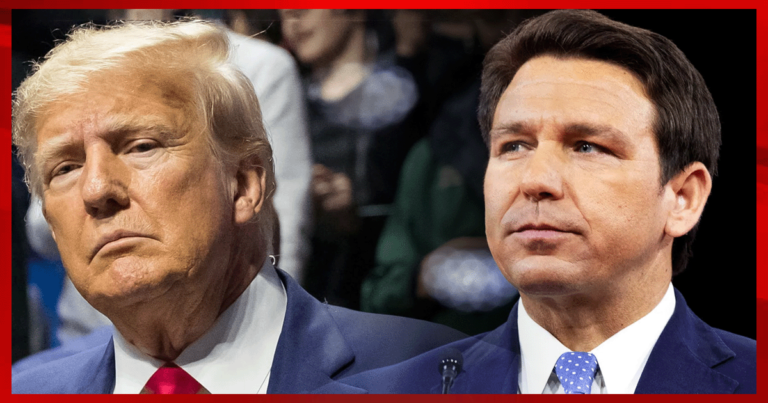 What's Happening:
Gov. DeSantis launched his presidential campaign this week and Donald Trump's campaign seems like they are getting nervous for the first time. The former president has mercilessly attacked his former friend, throwing out accusations that many believe to be untrue and some attacks that I think have some strong merit. So far, DeSantis has avoided attacking Trump back. But he ccouldn't stay silent forever. Just yesterday he finally gave it and he just called out Donald Trump's 2024 platform, accusing him of moving to the left!
From The Hill:
"It seems like he's running to the left… This is a different guy today than when he was running in 2015 and 2016, and I think the direction that he's going with his campaign is the wrong direction."
DeSantis called out a number of decisions Trump has made, trying to tie them to the damage they've caused to America. He accused Trump of adding trillions to the deficit.
From Mediaite:
"… And he added almost $8 trillion in debt in just four years as president," the Florida governor said of his main GOP primary rival.
DeSantis also blasted Trump for giving the nation over to a maniac named Anthony Fauci.
From Mediaite:
"I think he did great for three years, but when he turned the country over to Fauci in March of 2020, that destroyed millions of people's lives," DeSantis said. "In Florida, we were one of the few that stood up, cut against the grain, took incoming fire from media, bureaucracy, the left, even a lot of Republicans, had schools open, preserved businesses."
DeSantis is no longer pulling punches against Trump. But will it get him the response he needs?
From Fox News:
More than 150 former Trump administration officials are now backing Florida Gov. Ron DeSantis' endeavors of becoming the Republican Party's 2024 presidential nominee, Fox News Digital has learned.
Wow. Over 150 officials who worked in the Trump administration are now endorsing DeSantis. That includes former members of the DHS, DOJ, the White House staff, DOE, DNI, and more. These are people who worked with the former president; their opinion carries a lot of weight since they know exactly how Trump led. This could indicate a shift that is happening in the republican party towards a new candidate like DeSantis, but it is still VERY early in the race and its hard to tell where things will end up.
But for them to turn around and now back DeSantis seems like it could be pretty damning for 45.
Trump got elected in 2016 because of his very loud and direct personality that called out corruption and problems anywhere he saw them. But he can't ignore what DeSantis is saying. Trump did listen to Fauci in the beginning and shut down the country. He did add $8 trillion to the national debt. And he is now pushing a new set of policies that many have concerns with. Could this be the ammo DeSantis has needed to take some support away from Trump? Or is the party still way too loyal to someone who lead them through a tough 4 years and fought on the front-lines against the Democrats in the 2020 election to bring us where we are today. There's no doubt Trump has done many great things for this country and some are saying he's had his time and now DeSantis should take the lead, but many disagree.
Trump and DeSantis supporters need to consider all of this. One thing is for sure, this primary will be anything but boring!
Key Takeaways:
DeSantis fired back at Trump's attacks, claiming the former president is moving to the left.
DeSantis accused Trump of handing the country over to Fauci; Trump also is advocating for pro-choice and pro-amnesty policies.
Over 150 former Trump administration officials are now endorsing DeSantis for president.
Source: The Hill, Mediaite, Mediaite, Fox News