DeSantis Makes a Bombshell Day 1 Promise – Ron Will Fire 1 D.C. Leader Immediately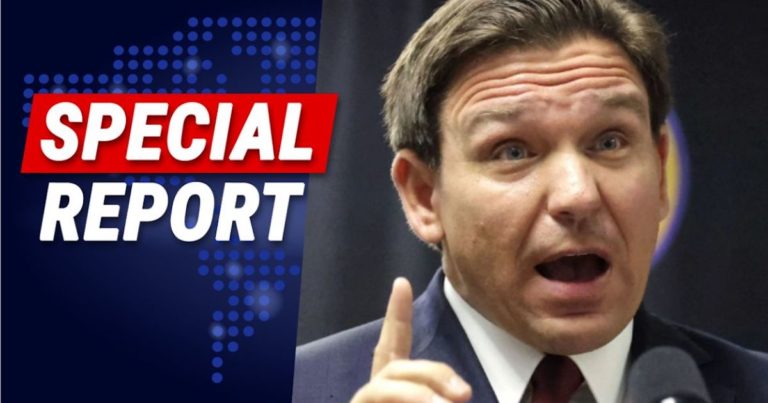 After months of speculation, popular Florida Governor Ron DeSantis has officially declared his candidacy for the 2024 presidential election.
It seems obvious that he's been gearing up for this announcement for some time, as he already has several big-name allies lined up. And he's also prepared to make plenty of enemies in Washington.
For example, he's going to do some serious "housecleaning" if he gets into the White House.
DeSantis spoke to Fox News host Trey Gowdy immediately following the Florida leader's 2024 confirmation, and spent some time on the various scandals that have plagued the FBI.
These scandals have called the reliability and integrity of the Bureau into serious question, and DeSantis believes it's time for a major change.
His big Day 1 promise is that he'll ditch FBI Director Christopher Wray, in an effort to impose "real accountability." It would be a strong move, and one that many Republicans are likely to support.
Said DeSantis:
I would not keep Chris Wray as the director of the FBI, there would be a new one on day one, I think that's very important.

In terms of an attorney general, you need someone that's got a very strong backbone. You need somebody that knows that if you are going in there and you are taking care of business.

The Washington Post is not going to like you, The New York Times is not going to like you, you are going to get attacked by CNN and you have to wear that as a badge of honor.
The Twitter Spaces event was rife with glitches and issues, as over 600,000 people attempted to tune in to the announcement and Q&A.
However, DeSantis' hat is in the ring now, and he's not wasting any time making campaign promises. In regards to the FBI, the agency has come under heavy scrutiny for "political weaponizations."
They've been accused of targeting pro-life supporters, parents who dare to push back against school administrations, and vast social media censorship.
All of it feels like a coordinated attack on conservatives and even moderates; anyone who doesn't precisely toe the liberal line. As DeSantis added:
I think the DOJ and FBI have lost their way, I think they have been weaponized against Americans who think like you and me and I think they have become very partisan.

Part of the reason that is happening is because Republican presidents have accepted the canard that the DOJ and FBI are 'independent.'

They are not independent agencies, they are part of the executive branch, they answer to the elected president of the United States.
There's a reason a Weaponization of the Federal Government committee exists, and they're continuing to investigate the FBI's actions.
DeSantis isn't stopping with just Wray, either:
He said that if anyone in the FBI or DOJ colludes with a tech company to censor information, they'd be "fired immediately."
It's difficult to hold such powerful organizations accountable, especially when you have an administration that supports them 100% and refuses to admit to any targeting of citizens who don't align with their beliefs.
But there's simply too much evidence to the contrary right now, and if Gov. DeSantis becomes President DeSantis we might finally get some real answers — and real action.
Key Takeaways:
New 2024 candidate Ron DeSantis says he'll fire FBI boss Christopher Wray on Day 1 if he gets into the White House.
DeSantis says there must be "accountability," and that the FBI and DOJ "have lost their way."
Many have accused government agencies of quietly mobilizing against conservatives and any citizens labeled "dissenters."
Source: The Daily Caller