DeSantis Turns Heads in First 2024 Campaign Stop – Ron Wows Swing State Crowd with His 'Secret Weapon'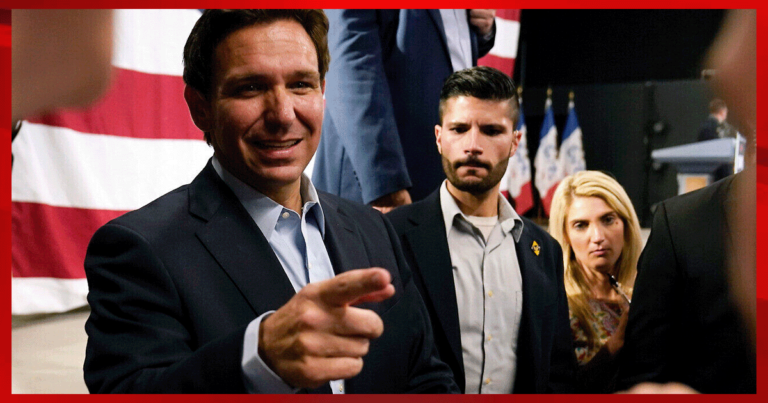 What's Happening:
From what we're seeing from GOP primary polls, Donald Trump is leading the rest of the pack. But much can change in the coming months as Republican rising star Ron DeSantis heats up his campaign. The Florida governor won a landslide re-election victory in 2022. And many believe he can eject old Joe from the White House.
But in order for him to have a chance at clinching the nomination, he'll need to win over most Republican voters. So, the Florida native showed up at a key primary state to make his case. And it seems he was able to win over this crowd, by listing his impressive record.
From The Post Millennial:
Florida Governor Ron DeSantis made his first official campaign stop in Iowa on Tuesday night in front of a jubilant crowd. In his speech, DeSantis hit all key talking points for domestic policy, from his patented "anti-wokeness," to energy independence, law and order, and the need to close the border to illegal immigrants.
Wow. Republican Governor of Iowa Kim Reynolds appears to be supporting DeSantis in the primaries. She introduced the candidate, suggesting is the one that can get rid of Joe Biden and help Republicans retake the White House.
DeSantis appears to have won over this crowd, listing his achievements as governor of the Sunshine State. And DeSantis's record is pretty strong. Thanks to him, the once-swing state of Florida is firmly a Republican state. In the last election, Democrats gave up the state as lost, refusing to pump a lot of money into helping liberals win.
The Republican governor scored wins across the board. But perhaps his crowning achievement is his "war on the woke." DeSantis has been deliberate in passing laws that shut down Democrats' attempts at pushing far-left ideology in public schools, colleges, and even Hollywood.
His war with Disney has impressed Americans from coast to coast. It seems to tell Americans that DeSantis will not back down in defending American values, even when going up against a major corporation like Disney. But his battles against the Biden administration have been the most significant.
He defied lockdowns, mask mandates, vaccine mandates, and Biden's open border agenda. These victories could go a long way in assuring voters that DeSantis can go all the way to the White House.
But will it be enough to shut down Donald Trump's momentum and legion of supporters? I guess we'll have to wait and see.
Key Takeaways:
DeSantis gave his first campaign speech in Iowa.
The Republican listed his record of achievements as governor of Florida.
Iowa Gov. Kim Reynolds introduced the candidate.
Source: The Post Millennial