DeSantis Unloads 1st Big Attack on Trump – Nails Donald with Surprise Accusation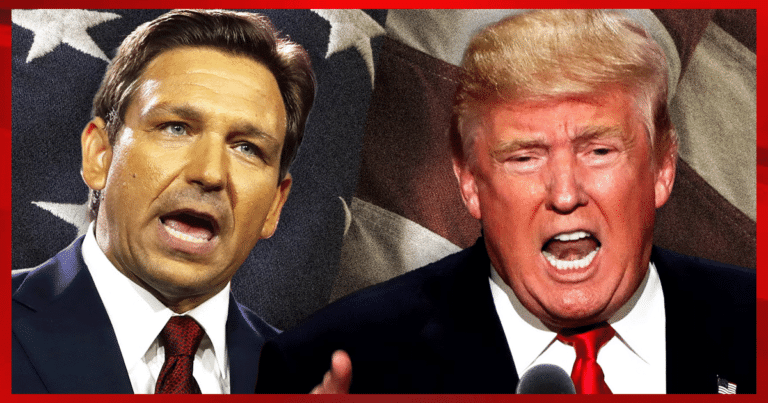 What's Happening:
For months now, Donald Trump has been attacking Florida governor, and former ally, Ron DeSantis. The former president has been merciless with his ugly–and many would say dishonest–attacks against the wildly successful governor. And, for the most part, DeSantis hasn't even responded to Trump's vicious criticisms.
But that might be changing.
DeSantis knows he can't attack Trump the same way Trump is attacking him. But he can't sit back and let Trump spin a dishonest narrative against him. So, the Florida governor is using the plain facts to tangle up 45. And this one statement will really have Donald fuming.
From Breitbart:
DeSantis said, "I think at the end of the day most of our voters obviously appreciate a lot of the things President Trump did… But they also understand that you need someone that can serve two terms. You need somebody that's going to be able to win and win big…

"I'm standing up to people like Disney and with due respect to the former president, he's taken Disney side in this now… I don't think these kids should be sexualized. We took away their self governing status, and I'm not backing down one inch from that. I think are voters want to see somebody that can fight but also somebody that can win."
Oh, wow. DeSantis hammers Trump with a rebuke the former president can't easily turn aside. DeSantis was careful to show respect to the former president. He admits that Trump had a good economy… for the first three years of his term.
But then he goes for the throat and essentially ridicules Trump for being a one-term president. DeSantis says that voters want someone that can serve "two terms."
He raises a good point. Even if Trump wins, he only has one term in office. With some Supreme Court justices soon to retire in around 6-8 years, Trump won't be able to fill their seats. A two-term Republican president can.
DeSantis also called out Trump's support of Disney, in this Florida-Disney battle. DeSantis accused Trump of taking sides with a woke company that is supporting transgenderism, homosexuality, and the "sexualizing" of children.
Can Trump honestly say he's doing the right thing by supporting a leftist company over a Republican governor? And for that matter, why did Trump insult Florida for passing a 6-week abortion ban? Is Trump now suddenly a pro-choice candidate?
He has a lot to answer for, it seems.
Key Takeaways:
DeSantis attacked Trump, criticizing him for being a "one term" president.
The governor also rebuked Trump for siding with woke Disney.
Trump sided with Disney, which is fighting Florida over parental rights.
Source: Breitbart