Biden's Censorship Czar Gets Concerning New Job – This Time She Is Going After the Entire Globe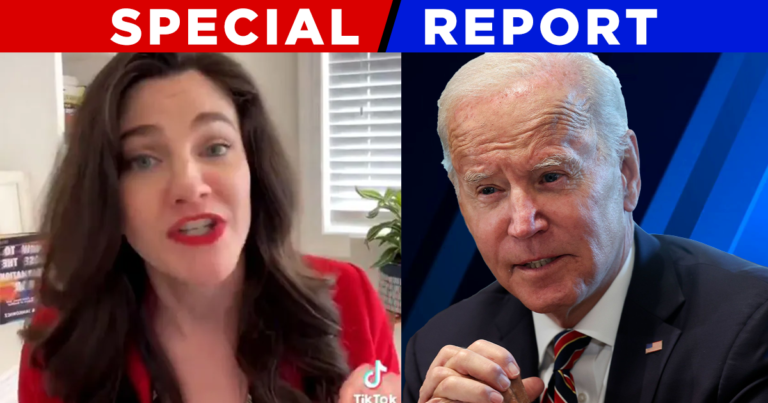 What's Happening:
Americans from all walks of life were shocked when, at the start of 2022, Biden's Department of Homeland Security announced a "Disinformation Governance Board." Very few thought this department wasn't going to violate Americans' First Amendment rights and censor free speech.
Even shocking was the fact that a civilian, someone known for spreading leftist talking points, was going to be this board's "czar." The outcry from both liberal and conservative Americans forced the DHS to quickly shut down plans for this board. But that hasn't stopped this would-be czar from waging a war against free speech.
Because now, she's not just interested in censoring America–but the entire world.
From Fox News:
The White House's former "disinformation czar" has recently registered as a foreign agent for a nonprofit based in the United Kingdom…

Nina Jankowicz is now working for "Centre for Information Resilience."

Founded by U.K. citizen Adam Rutland and dual U.K.-U.S. national Ross Burley, the organization says it conducts research, digital investigations, strategic communications, building the capacity of local partners, and collaborating with media to "amplify the impact" of its work.
According to registration documents, CIR is financed "in part by grants from the U.K. government, including the Foreign Commonwealth, and Development Office."
Okay, so Jankowicz went from helping the U.S. government censor Americans to helping the U.K. government censor the entire planet. This "Centre for Information Resilience" sounds more like a ruse to shut down any speech this group considers a threat to their socialist agenda.
Its goal is, they claim, to counter "disinformation, exposing human rights abuses, and combating online behavior harmful to women and minorities." Call me crazy, but you can confront human rights abuses without preventing people from using their free speech.
For decades, humanitarian organizations have raised awareness of human rights abuses around the world. And never did they try to censor speech in the name of "countering disinformation."
Funny how that word crept into the left's narrative lately, huh? They no longer have to accuse conservatives of "hate speech" to shut down their First Amendment rights. They just have to call what you say "disinformation" to justify silencing you.
Oh, you don't like Joe Biden's agenda? Disinformation! You are a threat to women and minorities because you don't like the fact Biden is ruining the U.S. economy!
See how easy that is? And Jankowicz now has the funding of the British government to shut down speech all over the world. Not just Americans will find their comments censored. But people as far away as Asia will have Nina breathing down their necks.
Key Takeaways:
Biden's former "disinformation czar" is now working with a British group to censor the world.
Nina Jankowicz works with the "Centre for Information Resilience" which will combat "disinformation," meaning it will shut down free speech worldwide.
Jankowicz is a leftist who has previously pushed disinformation to help Democrats.
Source: Fox News