After Disney Blames DeSantis For Shutdown – Ron's Response Wrecks Woke Company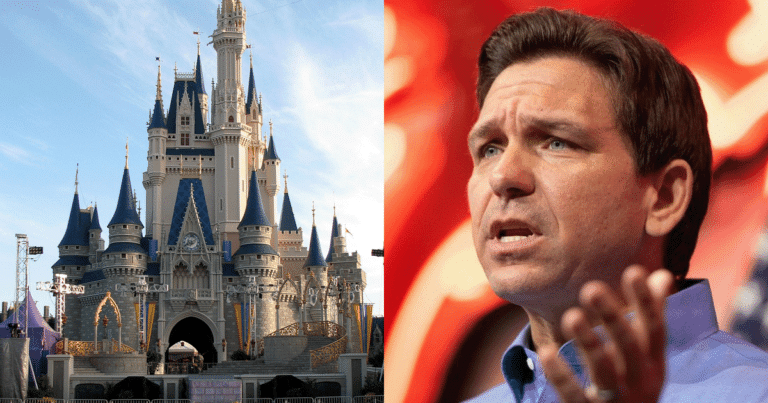 What's Happening:
Not so long ago, Hollywood company Disney tried to influence the Florida state legislature. The company vowed to overturn a law protecting children in public schools. The episode exposed the once family-friend company as the latest "woke" corporation, intent on forcing leftist politics down Americans' throats.
Florida has pushed back on Disney's egregious attempt at meddling in its work. Disney has increasingly tried to undermine the state, with lawsuits and other moves. Most recently, it announced the cancelation of a billion-dollar complex, blaming Florida Gov. Ron DeSantis. So, the Republican torched the company with his response.
From Daily Wire:
"Given the considerable changes that have occurred since the announcement of this project, including new leadership and changing business conditions, we have decided not to move forward with construction of the campus," [Disney announced]

… "Disney announced the possibility of a Lake Nona campus nearly two years ago. Nothing ever came of the project, and the state was unsure whether it would come to fruition," said DeSantis' press secretary Jeremy Redfern. "Given the company's financial straits, falling market cap and declining stock price, it is unsurprising that they would restructure their business operations and cancel unsuccessful ventures."
Wow. Disney shut down plans to build a $1.3 billion town center that would house 2,000 employees. The woke company's head of theme parks claimed it was because of "changing business conditions." That sounds like a shot at Florida and Gov. Ron DeSantis.
The governor fired back, stating that Disney had been talking about building this complex for years, but never did anything about it. The state apparently didn't believe Disney would ever pull the trigger.
DeSantis went on to slam Disney, stating the company's struggling "financial straits" and "falling market cap." Since Disney announced its woke agenda, the company has been losing money hand over fist. It had to lay off 4,000 employees, in an unexpected move.
It should be a surprise to no one that Disney isn't building an expensive office complex when they are hemorrhaging money. But for them to suggest it has anything to do with Florida's decisions is questionable.
Disney is trying to play the victim, while it harasses and attacks the state. But the more it comes out as a far-left organization, the more Americans are going to stop supporting them.
Key Takeaways:
Disney canceled a $1.3 billion office complex in Florida, blaming the state.
DeSantis fired back, pointing out Disney's falling market value.
Disney has lost billions in recent years after going woke.
Source: Daily Wire