After Disney CEO Tries to Blame Florida – Ron DeSantis Turns the Tables on the Mouse House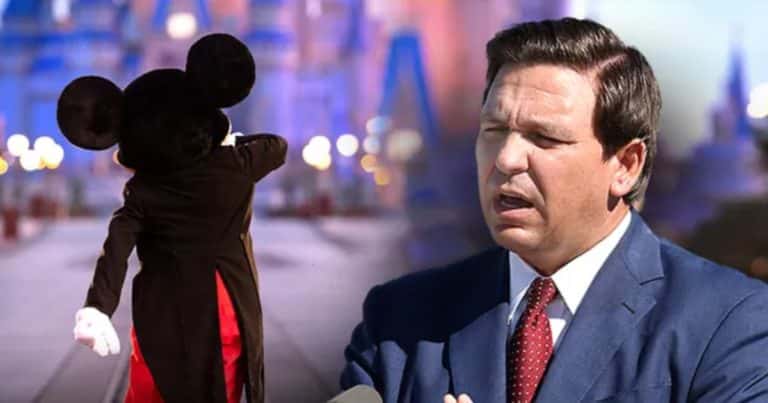 What's Happening:
The once family-friendly Disney Company is struggling after pushing a woke agenda onto Americans. They even went to war with Florida, after the Republican-led state passed a law to protect parents and children.
Things have gotten so bad for Disney, they had to fire their CEO and bring back Bob Iger. The returning boss appears to be trying to mend fences. But his latest statement seems to be rewriting history.
From Breitbart:
Disney's returning CEO Bob Iger has expressed regret the company got into a fight with Florida over the state's anti-grooming law, telling Disney's recent employee townhall meeting he was "sorry to see us dragged into that battle."
Iger claimed that Florida is "important" to Disney and Disney is important to the state of Florida. It sounds as if he's apologizing for what Disney did. But his language suggests the company isn't to blame. Florida's Ron DeSantis was not buying this "apology" for a minute.
From Daily Wire:
DeSantis said, "We didn't drag them in, Tucker. They went in on their own, and not only opposed the bill. They threatened to get it repealed."

"These are parents' rights, important policies in our state that are very popular. And so they brought this on themselves," he continued.
Woah. DeSantis kicked back at Iger when he claimed Disney was "dragged" into that battle. Really? Nobody forced Disney executives to attack Florida for passing the Parental Rights bill. Disney went out of its way to interfere with the state's government and vowed to repeal the law.
The company then went on to promise to push an LGBT agenda in all its movies and shows. Florida didn't force Disney to do any of that. The company seemed to think it had the right to decide laws for people.
Gov. DeSantis and Florida lawmakers stood up to Disney, revoking its special tax status in the state. Only after that did Disney recognize its wrong and back down. But if DeSantis hadn't stood up to this massive corporation, it would be calling the shots in Florida right now.
So, is Iger really upset about what Disney did or is he upset that they failed?
Key Takeaways:
Returning Disney CEO Bob Iger claimed the company was "dragged" into the feud with Florida.
DeSantis pushed back saying nobody forced Disney to pick a fight with Florida.
This comes as Disney is suffering major losses after "going woke."
Source: Breitbart, Daily Wire