Woke Disney Just Got Even Worse – Viral Park Video Causes Major Outrage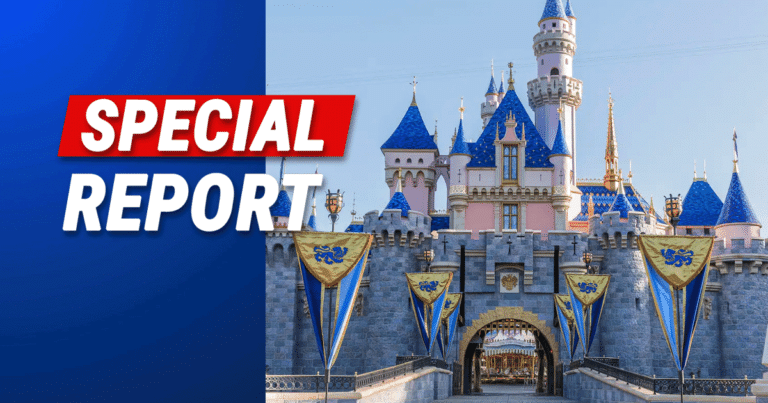 What's Happening:
Not too long ago, Americans learned the truth about the Walt Disney Company. Top executives from the Hollywood company vowed to overturn a Florida law that protected children. The company outed its progressive, far-left agenda. So, millions of Americans decided to stop supporting it.
And the company has already lost billions as a result.
But it is likely that Disney has not learned its lesson. And it appears that the company's "woke" agenda is not slowing down in the slightest. A new video surfaced online that was supposedly taken at a "fairy godmother" store at a Disney park. It's going viral, for all the wrong reasons.
From The Post Millennial:
Immense scrutiny erupted across the internet on Tuesday after a video surfaced of a cross-dressing male with a mustache greeting little girls as a "fairy godmother" at Disneyland's Bibbidi Bobbidi Boutique.

The video, which has since gone viral with more than 7 million views, shows the Disney employee named "Nick" wearing a pink and blue dress with matching makeup and welcoming little girls into the store. His title at the Bibbidi Bobbidi Boutique, which transforms kids ages 3 to 12 into princesses or knights with makeovers, is called a "Fairy Godmother's Apprentice."
Disney has a man in a dress working in the dress store for little girls at Disneyland. This is who Disney wants girls to see when they first walk in to pick out a dress. pic.twitter.com/Ta2dwyAaSa

— Jason Jones (@jonesville) May 30, 2023
Oh, boy. A video that has been seen by over 7 million people shows what might be going on at Disneyland's "Bibbidi Bobbidi Boutique" in California. A worker named "Nick" was greeting children as they entered the shop.
He was dressed in a pink and blue dress, with princess-style makeup on his face. His mustache was clearly visible, removing any doubt as to his gender. The man suggested he worked for the park, saying he was there to help the children make their selections.
This comes at the very worst time. Already Americans have been boycotting corporations for their apparent support of transgenderism. Bud Light got hammered for just putting a transgender's face on a can. But Target and other companies are getting destroyed because they were supposedly pushing transgender-themed products onto children.
How are Americans going to react to this video? I can't imagine even liberals appreciating this kind of thing. Some are calling for more boycotts against the company. Disney had already announced it was in support of men dressing as princesses at this store. It is unlikely they will back down in their progressive agenda.
Key Takeaways:
A viral video reveals a cross-dressing man welcoming children to a store in Disneyland.
The video has been seen by over 7 million people; some are calling for more boycotts.
This comes as "woke" Disney has lost billions due to its far-left agenda.
Source: The Post Millennial