Trump's DOJ Blindsides James Comey, Reveals His Closet Of Skeletons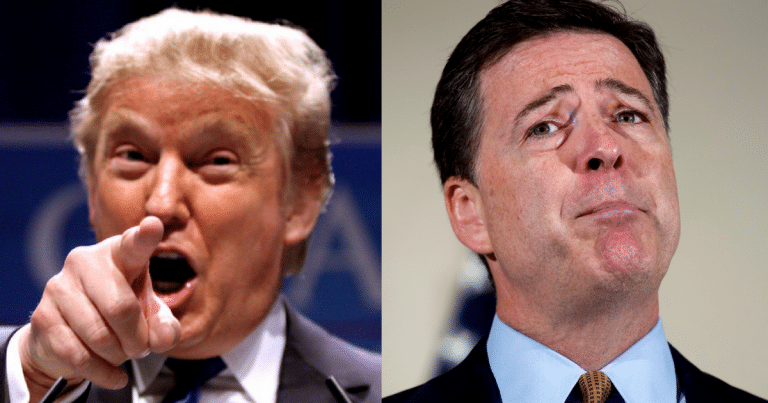 You thought that you were done hearing about James Comey. Surprise! He's back. But this time, you might be pleased.
America was stunned at the behavior of then-FBI Director James Comey. On the verge of one of our biggest presidential elections, Comey appeared on TV to give Hillary Clinton a pass. Even though he admitted she broke the law, he claimed she didn't deserve prosecution. Uh, right. That makes sense.
After that, he continued to use his shrinking platform to accuse President Trump of wrongdoing. The arrogant and self-involved FBI director didn't seem to care about our country, law, or democracy. He was only out to make a name for himself.
Now a new report is coming out that will finally exonerate President Trump and put Comey in his place.
From ABC News:
The Justice Department's internal watchdog has concluded that James Comey defied authority at times during his tenure as FBI director, according to sources familiar with a draft report on the matter.
One source told ABC News that the draft report explicitly used the word "insubordinate" to describe Comey's behavior. Another source agreed with that characterization but could not confirm the use of the term.
In the draft report, Inspector General Michael Horowitz also rebuked former Attorney General Loretta Lynch for her handling of the federal investigation into Hillary Clinton's personal email server, the sources said…
The draft of Horowitz's wide-ranging report specifically called out Comey for ignoring objections from the Justice Department when he disclosed in a letter to Congress just days before the 2016 presidential election that FBI agents had reopened the Clinton probe, according to sources.
Those of us following Comey's story will not be surprised by this report. Comey was a rogue FBI director. He even defied President Obama on more than one occasion. It seemed like he cared more about appearing in the spotlight, rather than investigating real crime.
His agency used an obviously bogus dossier to open an investigation against Donald Trump and his campaign. That witch hunt is still going on, despite a lack of any evidence.
James Comey constantly insulted the Commander in Chief. He accused Trump of being a liar. Not because he ever lied to him, but because Comey was seeking brownie points from the liberal elite. This joke of an FBI director only seemed to care about his own reputation—rather than the well-being of the country.
Even during his infamous testimony before the Senate, he did nothing but praise himself. He even threw Obama, Lynch, and Clinton under the bus.
He was a leaker and a liar. Trump should have fired him immediately. But now it looks like the country will finally learn the truth about this opportunist.
Be sure to spread the word. Comey deserves his last moment in the sun—as the cheat he is.
Source: ABC News