Donald Hammers FBI Democrat "Machine" – Barack Obama Is In The Deepest Trouble Of All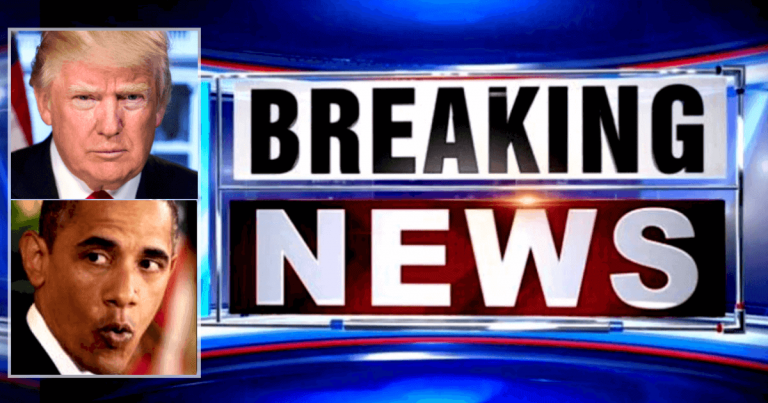 Here comes Trump – watch out Barry!
For over two years, President Trump had to deal with a pointless "investigation" into his non-existent ties to Russia—oh, but he's getting them back now.
The American people know the investigation should have gone the other way. It turns out Democrats knew the Russians were trying to hack our 2016 Election.
The Russians cracked into computers and spread misinformation online. Why didn't Democrats do anything to stop it then?
Trump is demanding answers—from the one person truly responsible.
From Twitter: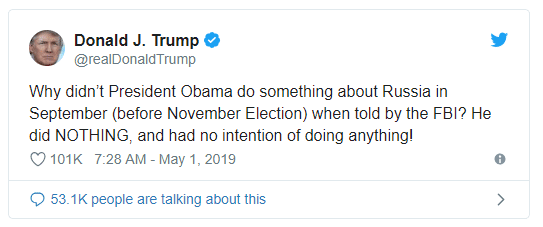 Why didn't President Obama do something about Russia in September (before November Election) when told by the FBI? He did NOTHING, and had no intention of doing anything!
Oh SNAP. Trump's been quiet on Obama, but not anymore.
Donald is demanding answers from former President Obama.
Barack knew about Russian meddling long before November 2016. Yet the former president did nothing.
He never directed the FBI to prevent Russia's attempts to mess with our democracy. According to President Trump, Obama had no intention of doing anything.
Isn't the buck supposed to stop at the president's desk? You'd think Obama would be VERY worried about Russians trying to meddle in our free election.
I guess it depends what his priorities really were.
Joe Biden has been quoted as saying Obama's administration was scandal-free. M-hm, what about this?
There is a laundry list of scandals we can give you, but how about a foreign government trying to hijack our election?
And Obama did NOTHING to stop it?
Could it have something to do with the fact that Obama just assumed Hillary would win? Or perhaps he thought his minions could use this to undermine Trump?
It appears our current president knows what's up. But he needs America's support to get justice.
SHARE if you think Trump should make Obama pay!
Source: Twitter