DeSantis Speaks Out After Trump Announcement – Ron Declares Rumors of 'GOP Civil War' Are Overblown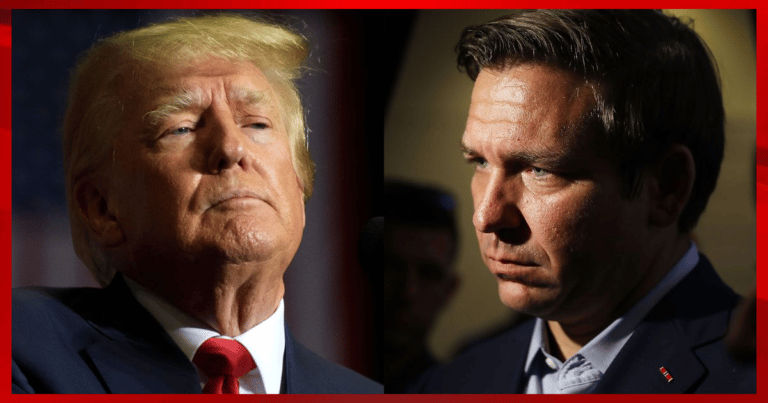 What's Happening:
All eyes are on the 2024 Presidential Election. With Biden continuing to stumble at every turn, millions of Americans are eager to elect someone else to the White House. With his big announcement recently, Donald Trump is the first Republican to throw his hat into the ring.
But Trump did this, even as many believe Florida Gov. Ron DeSantis should be the party's next leader. This could erupt into a bitter conflict as the GOP primaries heat up next year. A reporter asked DeSantis what he thinks about this "civil war." This is what he said
From Daily Wire:
Florida Governor Ron DeSantis downplayed Wednesday suggestions that there was a "civil war brewing" between himself and former President Donald Trump for the party's 2024 presidential nomination…

"We just finished this election, okay?" DeSantis said. "People just need to chill out a little bit on some of this stuff…"

"…And so we're going to continue to deliver, we're not going to look back. And I think that that's very, very significant."
Gov. DeSantis appeared to dismiss claims that a civil war was brewing between himself and Donald Trump. Even though Trump has recently criticized DeSantis, the governor has refused to comment on it.
DeSantis, instead, said he was focused on working for the state of Florida, after his major victory. He said the party needs to focus on producing results for the country if they want to win big in the future.
The governor has yet to announce a 2024 campaign, but some of his comments could spark speculation. While answering the question, he said "we're not going to look back." What could that mean? Is DeSantis hinting at replacing Donald Trump as the GOP frontrunner?
Many pundits have talked about moving on from Trump, especially after DeSantis' big win. Some, like Mike Pence, are urging Republicans to seek new leadership for 2024. But many Americans still rally behind Donald Trump. They will be hard to win over.
The reality is, the 2024 primaries are going to be a tough fight. Perhaps many Republicans will jump into the ring, as is normal for a presidential election. Trump isn't the de facto nominee. If DeSantis decides to run, voters will choose who they want to represent them.
I guess we'll have to wait and see what he decides.
Key Takeaways:
Ron DeSantis answered questions about a "civil war" between himself and Trump.
The governor dismissed the claim and said he was focusing on working for Florida.
He also said he was not "looking back" perhaps a hint at his 2024 plans.
Source: Daily Wire