DREAMer Illegals Betray Democrats, Completely Change Their Tune On Border Wall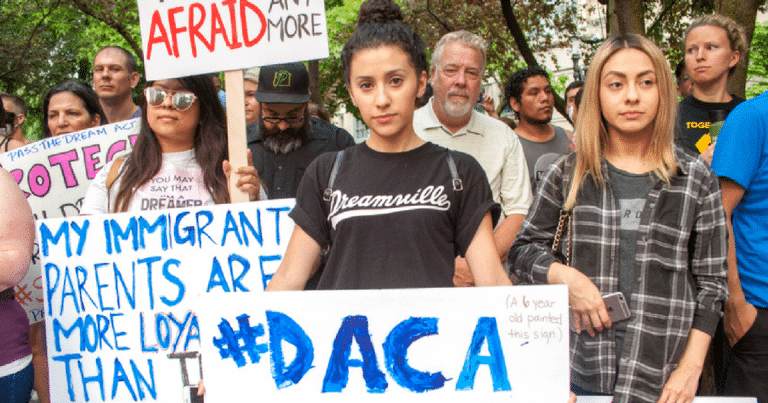 President Trump is a master negotiator. This is a man who has literally "written the book" on making deals. Donald is a force to be reckoned with.
So, when legislative and policy issues come up, he seems to have an innate sense of what is possible. And not only that, he is a master at guiding the debate to accomplish his goals. He is truly fascinating to watch.
As we know, the fate of the Dreamers is in flux. Mr. Obama's program is being phased out. And President Trump has proposed a route to citizenship for these Dreamers and more in return for funding for the border wall.
Clearly, this puts pressure on the Democrats who favor the former and abhor the latter. And now the Democrats have another problem: The Dreamers are ready to ditch the Democrats and support the president's proposal if that allows them to stay and ends their uncertainty.
From San Francisco Chronicle:
When Gerardo Gomez of San Francisco opens Facebook these days, he is often confronted by posts raising the same question — one that is largely theoretical but has generated unusually fierce debate in the community of immigrants known as 'Dreamers' to which he belongs.
Would they accept President Trump's wall at the U.S.-Mexico border if it meant citizenship for the nearly 700,000 people protected by the Deferred Action for Childhood Arrivals program?
Mr. Gomez opposes the president's plan. He is unwilling to support the border wall, even if it meant he and the rest of the Dreamers could stay in the US with a clear path to citizenship.
But that viewpoint is becoming less popular with the Dreamers, as Mr. Gomez laments.
For some DACA recipients, he said, the idea of the wall doesn't seem as toxic. At times he [Gomez] feels like a minority voice for seeing the wall as 'a racist symbol.'
Ana Rodriguez, a 26-year old who lives in Union City and works at a daycare center, expressed a different perspective. She said thinking about the prospect of a life without a work permit and protection from deportation — which DACA now provides her through October — can be too much.
How would she be able to make a life for herself, she asks, and to have a family?
"'If building a wall leads us to have citizenship, then I'm all for it,' Rodriguez said. 'The U.S. is what I know and that's where I want to live my life — I want to be a part of it in full.'"
That's a very rational feeling. And one that's understandable.
Let's try to simplify what the president is proposing. At its most basic level, he has said, "We'll keep you Dreamers who are already here, but will take no more." Hence the wall and increased immigration control.
Who is being penalized here? No one. Well, no one other than those non-citizens living elsewhere who will find coming to America to be more difficult. Since the US has no obligation to take in these people, there can hardly be any penalty being imposed.
Naturally, Democrats such as Senator Feinstein will vigorously oppose this proposal as presented by the president. Illegal immigrants are the natural allies of the Democrats, so she does not want the tap shut off.
Plus, if President Trump's proposal becomes law, the Dreamers will have a Republican president to thank for ending their state of limbo and granting them permanent resident status.
It's enough to make a Democrat go berserk.
Welcome to "The Art of the Deal."
Source: San Francisco Chronicle