After Easter Bunny Shuffles Biden Away from the Press – The Identity Behind the Suit Turns Out to Be 'Director of Message Planning'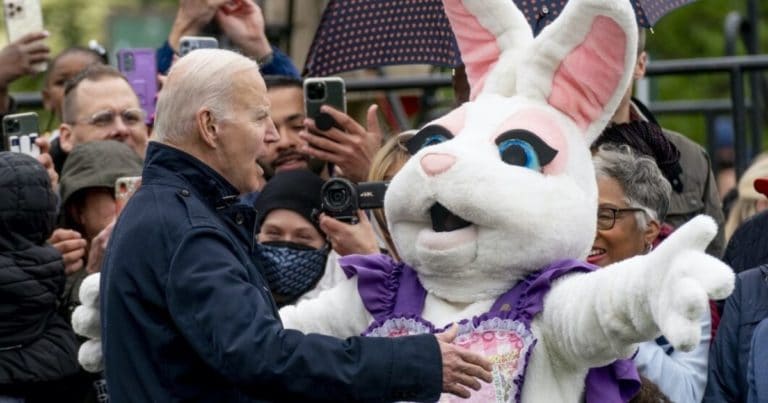 What's Happening:
Of course. When the Easter Bunny popped up to stop Joe Biden from talking to the crowd during last Sunday's White House event, we were curious.
Why did a hired actor in a bunny costume clearly step in to prevent Joe from making a gaffe? Was this person paid extra to babysit the "president"?
Biden was incoherently mumbling about Afghanistan… so now we know why the Bunny ran over to interrupt… pic.twitter.com/FthqFIgvHQ

— Abigail Marone 🇺🇸 (@abigailmarone) April 18, 2022
Obviously, something fishy was going on. Now we know exactly what.
From The Western Journal:
We needn't have worried, because the Easter Bunny outed herself:
.@POTUS @FLOTUS SURPRISE! pic.twitter.com/tE1dvRYkj6

— Meghan Hays (@MegHays46) April 18, 2022
That's Meghan Hays, director of message planning at the White House. Here she is revealing to Jill Biden who was under the suit — and revealing to Joe Biden that there was someone under the suit and that it wasn't a real anthropomorphic bunny, like in "Harvey" or "Donnie Darko."
Why It's Important:
Now, we know that whoever is really running the White House planted the director of message planning in a bunny costume. All to ensure Joe Biden didn't say and do anything that was out of place.
Is this real life? Is this a joke? Does Biden have any say in what goes on at all?
We are watching the biggest farce thrust onto the American public. We are told Biden is in charge. But the White House has to have spies in bunny costumes prancing around to make sure Biden doesn't step out of line.
It's worse than the Manchurian Candidate.
If you don't buy that, then try to explain why they needed Meghan Hays to dress up at all. There are literally professionals who can do this sort of thing.
There's probably a company that does this specially for government events.
There was absolutely no reason why a high-ranking member of the administration had to dress up in a humiliating costume, other than to secretly make sure Biden doesn't make a gaffe.
And they expect us to believe he's really in charge?
Key Takeaways:
The Easter Bunny that interrupted Biden was the White House director of message planning.
The bunny stopped Biden from talking about Afghanistan to the crowd.
This lends more weight to the suspicion that Biden is not in charge.
Source: The Western Journal, Twitter