Just Days Before The Trump/Biden Election – Donald's Approval, Compared To Obama, Is 5 Points Higher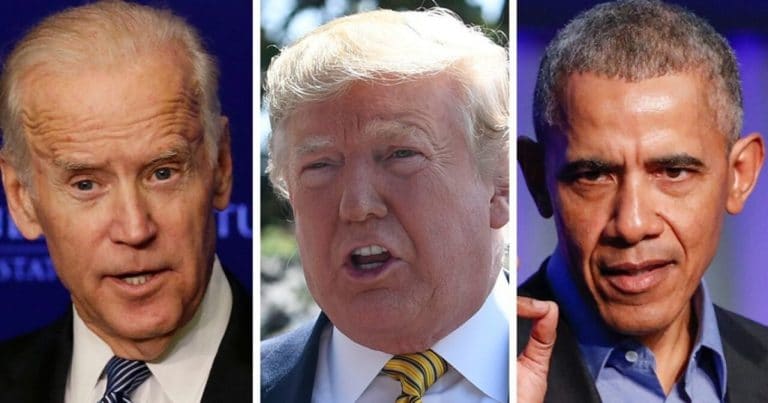 What's Happening:
If you believe the mainstream media polls, you'd think that a man with possible dementia will beat Donald Trump. Yet Joe Biden hasn't done much this election season, aside from hiding in his basement.
Can a man really win the presidency, by refusing to connect with voters and the public?
Biden seems to think Americans hate Trump so much, they'd instead elect a man like Joe.
But if that is true, why was Obama's approval at the same point in his administration so much lower than Trump's?
The Rasmussen Reports daily Presidential Tracking Poll for Wednesday, sponsored by Liberty Nation, Conservative News Where Truth Matters, shows that 52% of Likely U.S. Voters approve of President Trump's job performance.
Obama, who was routinely protected by the establishment media, enjoyed a 47% approval around this time in his presidency.
Trump, who has received nothing but hate and slander from the MSM, now sits at a shocking 52% approval.
This comes at the end of a year marked by COVID-19 lockdowns, a slumping economy, endless riots, and even more negative news coverage.
Democrats must be pulling their hair out right about now. They did all they could to slander the president, yet his approval is only growing in the days before the election.
Since the start of the year, Democrats have worked overtime. Not to help the American people, but to take down a president who puts Americans first.
They impeached him over a phone call, insulted his SOTU, and ignored his warnings about COVID.
Then they shut down their states, putting millions out of work, and blamed it all on Trump.
During the summer, with lockdown rules in place, they turned the other way at widespread riots.
Estimates have the damage at $2 billion dollars—and they again blamed Trump.
As we get close to the election, they continue to blame every problem in the country on Trump. Yet it was Joe Biden who was in public office for 47 years.
Doesn't he share some of the blame? Heck, he was vice president for eight years under Obama.
Why wasn't he able to turn things around? During the debates, Biden blamed a "Republican Congress."
Republicans weren't in power for 47 years. You'd think the media would acknowledge that a little bit, but they haven't.
This poll suggests that many Americans are rallying behind Trump, despite the endless attacks and slander.
But will he get a second term? I guess that's up to you, huh?
Key Takeaways:
Donald Trump has a 52% approval, beating Obama who had 47%
This comes as the media continues mostly negative coverage of his administration.
Democrats have spent the entire year trying to undermine the president.
Source: Rasmussen