Dr. Fauci Reportedly "Resisted" President Trump – Donald Told Him To Cancel Grant To Chinese Lab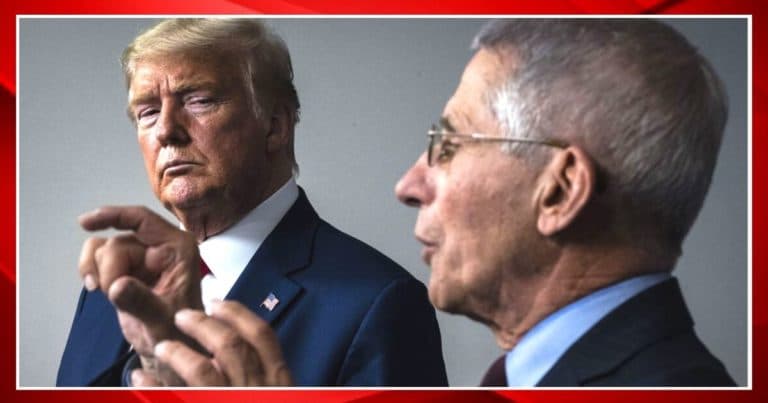 For most of the pandemic, the media didn't want to spread the theory that the coronavirus originated in Wuhan, China. This was despite evidence that showed it was a very real possibility.
There was also some question as to America's connection to Wuhan, and whether or not certain high-ranking members in our administration might have ties to China.
Now, it looks like Dr. Anthony Fauci is on the hot seat.
A new book will soon hit store shelves: it was penned by Washington Post reporters Yasmeen Abutaleb and Damian Paletta, and it examines how the Donald Trump administration tackled the pandemic.
This includes Dr. Anthony Fauci and his reaction to a specific Trump directive.
And in this case, it seems Dr. Fauci heavily "resisted" the order and only "reluctantly agreed" after he found out it was a direct order from the President. And it involves the Wuhan Institute of Virology.
This from Fox News, citing the aforementioned book:
Anthony Fauci resisted a White House directive in April of last year to cancel a research grant for a nonprofit linked to the Wuhan Institute of Virology but 'reluctantly agreed' after he learned that then-President Donald Trump had explicitly ordered its cancellation.
At the time, the White House wanted the National Institute of Health to cut funding for a study that involved the coronavirus jumping from bats to humans.
The study's sponsor was a nonprofit group called EcoHealth Alliance, and they were given a federal grant to make it happen. Basically, they were funding the Wuhan Lab at this point.
Then, because the Trump administration suspected the pandemic sprang from that Wuhan laboratory, they vowed to stop the funding.
That's when the order came down to EcoHealth, who was told not to spend the rest of the grant ($369,819) on the study, which would've gone directly toward Wuhan:
With questions swirling about the origins of COVID-19—experts had determined that the virus was not man-made but could not rule out that it might have slipped out of a lab—the NIH had gone to the principal study investigator on April 19 and asked that payments be halted to the subcontractor in Wuhan until it had more answers.
But Dr. Fauci evidently resisted this directive and when asked why the grant was terminated, he said he didn't know.
He eventually followed the order but he was definitely against it at the start, which begs the question: why did he want the grant money to continue going toward Wuhan with all these questions floating around?
Many would've supported Trump's order in this case. Why give more money to the lab that might've been directly responsible for a worldwide pandemic?
America's connections to China do run deep, and maybe now's the time to question those connections.
On top of that, maybe we need to question those who want to maintain those connections, despite plenty of evidence that says we should be distancing ourselves from the Communist nation.
Key Takeaways:
According to an upcoming book, Dr. Fauci "resisted" a Trump administration directive.
The order was to cancel a grant that funded research at the Wuhan Institute of Virology.
Fauci eventually followed the order but it seems clear he was against it.
Source: Fox News