After Fauci's Emails Leak Out – White House Reportedly Looking For An "Exit Strategy" To Dump The Doctor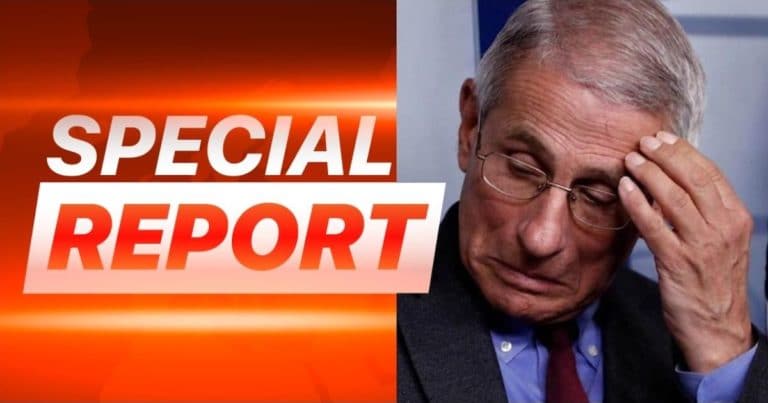 Dr. Anthony Fauci has been a controversial figure since the pandemic broke in 2020. Many questioned his recommendations and predictions and later, he was frequently accused of flip-flopping.
And now that a treasure trove of emails has leaked out, the most visible doctor in the world could be in some serious trouble.
In fact, his career at the White House might be just about over.
Just recently, Dr. Fauci's emails exploded in the public's eyes, after they were released by the media thanks to the Freedom of Information Act (FOIA).
These emails have prompted lots of questions and even more accusations, and these could be difficult to face. Much of the information seems to contradict statements Dr. Fauci made to America.
For example, the messages suggest Fauci raced to figure out if the U.S. had a role in funding coronavirus research "abroad." This was after he flatly denied America had funded research in China.
This is all coming to a head, and it seems the White House is quietly crafting a surprise for it's highest-ranking doctor.
From Breitbart:
The White House is actively looking to dump Dr. Anthony Fauci amid recent flip-flopping and released emails that show further contradictions on the pandemic response.

Jack Posobiec shared on Instagram the Biden administration is 'discussing an exit strategy' for the highest-paid federal employee, and who the Democrats have praised as a 'truth-teller.'
White House staff are actively discussing an exit strategy for Dr Anthony Fauci following the release of his emails yesterday, per WH official

— AntifaBook.com (@JackPosobiec) June 2, 2021
It's very possible that Dr. Fauci will lose his job. And Breitbart Political Editor Matt Boyle recently said Democrats might "sacrifice Fauci to save their credibility on the issue of the origins of the virus."
The emails certainly cast Fauci in a questionable light.
Maybe his apparent hypocrisies are the most glaring: for instance, while he recommended canceling religious services back in March of 2020, he approved campaign rallies and cruises.
Fauci Recommended Canceling Religious 'Services' March 5, Okayed Campaign Rallies, Cruise Ships for Healthy 4 Days After pic.twitter.com/s8oGJjr24W

— Wendell Husebø (@WendellHusebo) June 2, 2021
Emails also show Fauci reportedly describing face masks as "not really effective" in a February 5, 2020 message to the President of American University Sylvia Burwell.
This came just after he said the data made it "very, very clear" that everyone should wear masks to help stop the spread of the virus.
Fauci says in released emails to a professor of medicine, masks "are not really effective." pic.twitter.com/v4OnP6HC7f

— Wendell Husebø (@WendellHusebo) June 2, 2021
Many lawmakers are now calling for Fauci to be dismissed. Some even want the government to go farther; based on the information in those emails, a few are pushing for investigations.
Sen. Rand Paul (R-KY) believes Dr. Fauci lied to America, and thinks the doctor should "testify under oath" concerning the origins of COVID.
Even the Biden administration is reportedly looking into the possibility that the coronavirus came from China. This is in stark contrast to Democrat leaders calling this a "racist myth" over the past year.
But no matter what happens, Dr. Anthony Fauci is definitely in some hot water. And he'll have some very tough questions to answer.
Key Takeaways:
The White House is reportedly crafting an "exit strategy" to get rid of Dr. Anthony Fauci.
This is immediately after Fauci's emails reportedly show evidence of flip-flopping and hypocrisy.
Many Republicans want Fauci fired, and some are calling for full investigations.