Just 24 Hours After the FBI Trump Raid – It Backfires So Badly, Eric Trump Quickly Reports for Donald Record Fundraising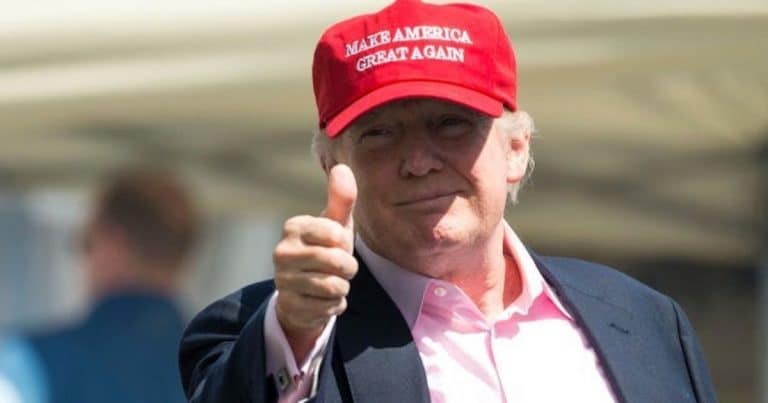 What's Happening:
It's safe to say that millions of Americans were shocked and outraged at the news the FBI raided Donald Trump's home.
Even after several days, we have not seen the warrant, nor have we been told the details of this unprecedented move.
But if Democrats thought this was going to hurt the 45th president, or perhaps turn Americans against him, they were sorely mistaken.
From The Western Journal:
The FBI raid on former President Donald Trump's Mara-a-Lago estate in Palm Beach, Florida, Monday has been a fundraising boon for his Save America PAC, according to his son…

In a tweet on Tuesday, Eric Trump said "DonaldJTrump.com is shattering all fundraising records and I'm told has raised more money in the past 24 hours than ever before in recent history! The American people are pissed!"
Well, color me not surprised. Eric Trump revealed that the day after the FBI's raid on Trump's home, 45's website was "shattering all fundraising records."
At this time, the Trump family has not revealed just how much money was raised. But we would not be surprised to learn it was millions of dollars.
Eric Trump said that the "American people are pissed." He drew a sharp connection between the news that Biden's FBI raided Trump and the record-breaking fundraising.
That's no surprise. Soon after word came out of the raid, Republican leaders (minus Mitch McConnell) expressed outrage.
House Minority Leader Kevin McCarthy promised to demand answers from Attorney General Garland, the moment Republicans regained Congress.
The backlash appears to be shaking even the D.C. swamp. Word is swirling that the DOJ and FBI are pointing fingers at each other.
Both groups claim the other one signed off on this controversial and seemingly unpopular raid.
Social media exploded as Trump supporters (some of whom had been silent in recent years) sounded off their anger over the news.
And it seems this has transformed into surging support for the 45th president. And just before a major election cycle when Republicans were already predicted to win big.
If Democrats had planned this to help the GOP, it couldn't have gone better.
Key Takeaways:
Eric Trump tweeted that Trump's website broke fundraising records.
This comes 24 hours after news of the FBI's raid of Mar-a-Largo.
It appears Americans "are pissed," assuming the raid was a political attack.
Source: The Western Journal