FBI Director Wray Opens China's Dirty Closet – Says 'Almost Half' Of The 5,000 Open FBI Cases Involve China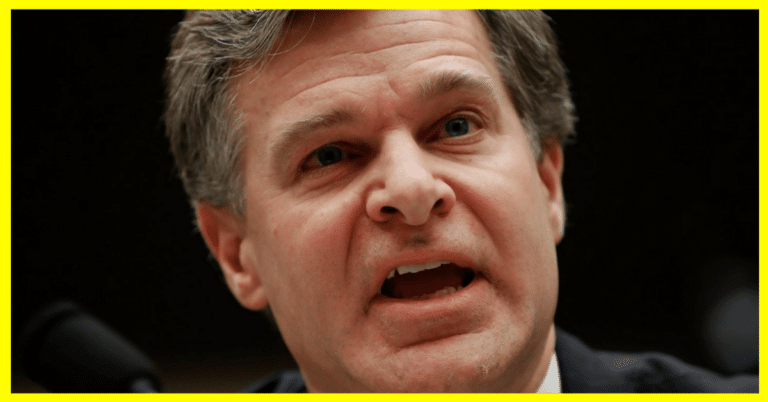 What's Happening:
Ever since the coronavirus epidemic hit, the world has been taking a closer look at China.
And in fact, the FBI has many reasons to investigate China – and much of it involves alleged theft.
FBI Director Christopher Wray just revealed a major concern for American citizens:
The theft of personal information, much of it evidently originating from China, continues to increase.
Overall, Wray says nearly half of the FBI's open counterintelligence investigations involve China.
From Fox News:
Of the nearly 5,000 active FBI counterintelligence cases currently under way across the country, almost half are related to China.

And at this very moment, China is working to compromise American health care organizations, pharmaceutical companies and academic institutions conducting essential COVID-19 research.
Wray added that the Chinese government's theft of U.S. info is "one of the largest transfers of wealth in human history."
Disturbingly, according to Wray, most of us are victims and don't even realize it:
If you're an American adult, it is more likely than not that China has stolen your personal data.
Wray cited a particularly alarming statistic: in 2014, Chinese hackers sole over 21 million records from the U.S. Office of Personnel Management.
How do they do it? Well, it's both complex and sophisticated.
Wray says China uses everything from "cyber intrusions to corrupting trusted insiders." He also claims there's a "variety of other actors working on their behalf."
Additionally, social media platforms like the popular video app Tik-Tok are far from safe.
Wray says China will often use such platforms to "identify people with access to our government's sensitive information."
Concerns over China's theft of personal information is nothing new.
However, it appears we're now reaching a possible peak in crime, and the Trump administration may decide to act soon.
Key Takeaways:
FBI Director Christopher Wray says "nearly half" of their counterintelligence cases involve China.
He reveals that for American adults, "it's more likely than not" that China has stolen your personal data.
The country allegedly uses social media to pinpoint possible targets as well.
Source: Fox News