After FBI's Flynn Evidence Spills Out – Jim Jordan Calls For FBI Interviews Of Priestap And Ptienka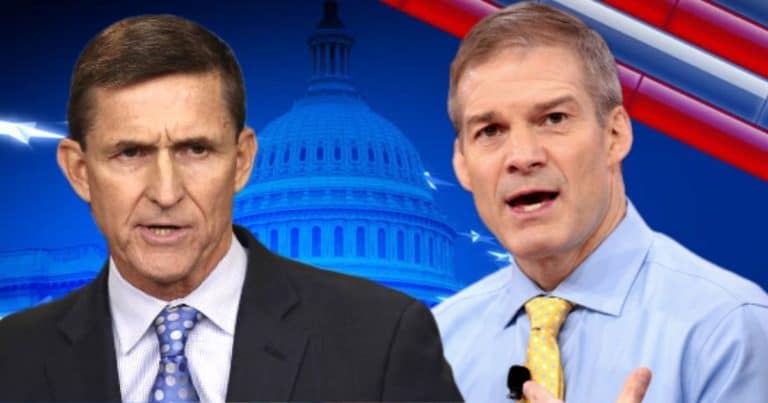 The Flynn case has certainly blown up in recent days. And Republicans like Jim Jordan are pushing for the truth.
Recent revelations have cast doubt on the ongoing narrative against Michael Flynn. In fact, some records suggest the FBI might have been setting him up.
Now, Jim Jordan and other Republicans are demanding the right to investigate the investigators.
From Fox News:
Reps. Jim Jordan, R-Ohio, and Mike Johnson, R-La… are specifically seeking to question a mysterious FBI agent, Joe Pientka, who participated in the January 2017 White House interview that led to Flynn's prosecution…

In addition to a Pientka interview, the Republicans… sought a sit-down with Bill Priestap, the former assistant director of the FBI Counterintelligence Division.
Wow. Jim Jordan and Mike Johnson are demanding to question two men at the center of the Flynn case.
Joe Pientka was an agent that questioned Flynn in January 2017, the very interview that led to Flynn's prosecution.
Bill Priestap was the very agent whose handwritten notes blew the lid off this case. According to his notes, the FBI might have been trying to get Flynn to lie or admit he broke the "Logan Act."
Based on what Priestap wrote, many are saying Flynn was set up from the start.
It's hard to tell what exactly was going on during that time. Many Americans believe Flynn was a loyal Trump ally, wrongly targeted by Obama-era agents.
This was around the same time FBI head James Comey was conducting his own investigation into Russia. The same investigation that was handed off to Mueller.
Was this case against Flynn a part of a larger scheme to take down Trump? Was the FBI, run at the time by Democrat-appointed officials, trying to trap Flynn to frame Trump?
We don't know for sure. But Jordan and company sure want those answers. They want to grill the two men closely associated with Flynn's case.
Something tells me Jordan is going to shake every tree until the truth comes out. Jordan, like few other lawmakers, has been fighting hard to expose corruption on the left.
He was a fiery opponent during the Democrats' impeachment push. Now, it looks like he's going to expose those deep state operatives who might have been working against Trump.
SHARE if you want the FBI's swamp dwellers investigated and exposed.
Source: Fox News