Federal Judge Just Shut Down Biden – And It's a Giant Win for Freedom of Speech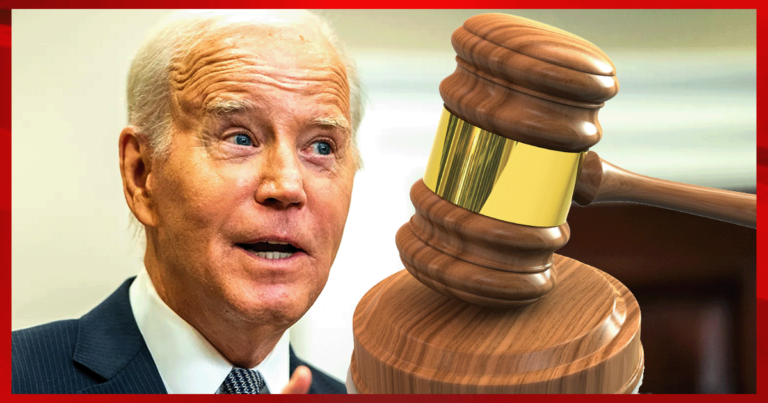 What's Happening:
What happens when you say, "No," to a tyrant with a temper who thinks he can do whatever he wants? President Joe Biden suffered yet another defeat in federal court. This clown just doesn't believe he has to follow the law.
Maybe all these rejections are why Biden is an angry, cursing monster behind the scenes in the White House. The man with his finger on "the" button is angry, and he's going to be angrier with each federal judge that rejects his administration's lawlessness.
Biden and his lackeys have been using social media to skirt the law and censor Americans' free speech for years. A federal judge recently ordered them to stop and, of course, Joe and his gang appealed the injunction. The judge's response sent the White House into another angry fit.
From The Daily Wire:
A federal judge denied a request from President Joe Biden's administration, saying that he would not grant a stay of his own order barring the administration from contacting social media companies.

U.S. District Judge Terry Doughty issued the initial order, after reviewing what he said amounted to "evidence of a massive effort by Defendants, from the White House to federal agencies, to suppress speech based on its content."
The order isn't all-inclusive of the Biden administration. Key players such as chief podium propagandist Karine Jean-Pierre along with specific officials from Homeland Security, Human Services, DOJ, and FBI are barred from contact with social media companies.
What would cause a federal judge to shut down Biden's favorite way to manipulate the public? Tyrant Joe and his minions didn't like it when people disagreed with him, questioned his "facts," or fell into his category of "disfavored speech." This prompted a lawsuit to stop Biden's back-door censoring of free speech.
From The Daily Wire:
The initial case, filed by the attorneys general of Louisiana and Missouri, alleged that the federal government had engaged in collusion with social media companies in an effort to censor what they considered to be "disfavored speech."
Joe and his minions don't see it that way, so they worked behind the scenes to get social media – where most public discourse takes place in our digital world – to censor anything the Biden administration didn't like. Terms like "misinformation" or "disinformation" were part of Biden's master plan to shut down "disfavored speech."
After decades of public service, dimwitted Joe still doesn't understand the Constitution and particularly the First Amendment's protection of free speech. People are free in this country to say what they want.
It's a great day when constitutional judges just say, "No," to Joe.
Key Takeaways:
Judge shuts down President Biden's collusion with social media.
It's great to hear a federal judge tell lawless Joe, "No."
Americans deserve protections of First Amendment across social media.
Source: The Daily Wire