5 Whistleblowers Turn Against Biden – They Just Came Out of the Woodwork to Accuse Joe's Family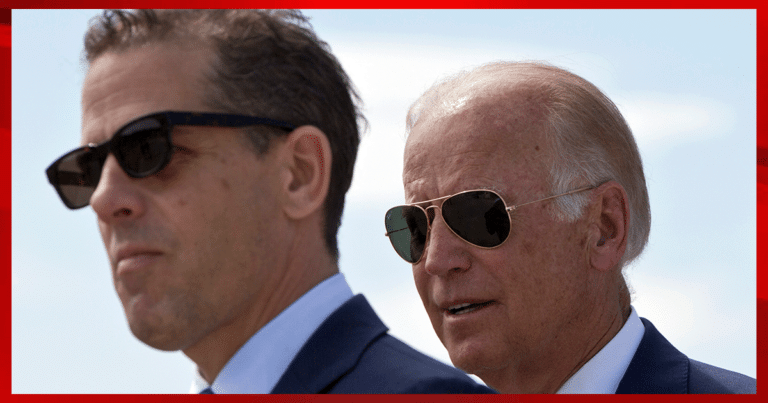 What's Happening:
Since before Joe Biden was in the White House, we've heard news about his family's shady business dealings. Evidence from Hunter Biden's laptop suggested Joe himself helped arranged a number of Hunter's potentially illegal activities.
All signs point to a possible scheme by the Biden family to peddle Joe's influence to get rich.
But we are far from over. Since Republicans took over the House, they have hunted down every lead. They are investigating evidence that has previously been ignored. And they are not coming up empty-handed. Now, we know of at least five whistleblowers who might take down Biden for good.
From Breitbart:
At least five whistleblowers have come forward to allege wrongdoing by the Biden family in connection with business schemes and corresponding coverups.

The whistleblowers are in addition to the multitude of witnesses that Republican members of Congress have interviewed behind closed doors.

The whistleblowers range from an IRS agent to an Obama administration stenographer, encompassing alleged corruption in Ukraine and Mexico, along with the FBI and DOJ.
This is pretty big. At least five people have come forward with damning testimony about Joe Biden and his seemingly corrupt family. We know that there are FBI whistleblowers who claimed the agency has evidence that points to Hunter and James Biden's criminal conduct.
For some reason, though, the FBI has not acted on this evidence.
Another whistleblower is Hunter's former business partner, Tony Bobulinski. For a while now, he has alleged that Joe and Hunter were involved in plans with the Chinese Communist Party. He claimed that Hunter used Joe's influence to score big deals, in exchange for Joe providing favors to the Chinese government.
There is also a former White House aide who is saying the FBI has ignored Joe Biden's role in Ukraine business dealings. Then there is the IRS whistleblower who accused the agency of interfering with the Hunter tax fraud investigation.
Finally, there is the whistleblower who accused Joe Biden of bribery allegations during his time as vice president. Those allegations were ignored by the DOJ in 2018.
How many more people need to come forward, before the Bidens face justice? This man is in the White House, yet he might have been bought and sold by China, Ukraine, Mexico, and more. It's about time Congress dropped the "I" hammer on him, eh?
Key Takeaways:
At least five whistleblowers have come forward with allegations against the Biden family.
Accusations that the Bidens traded favors with foreign powers have been around for years.
Joe himself supposedly worked with his son and brothers in bribery schemes.
Source: Breitbart