American Flag Shredded In Hurricane Winds—Owner Leaves It Up As A Powerful Symbol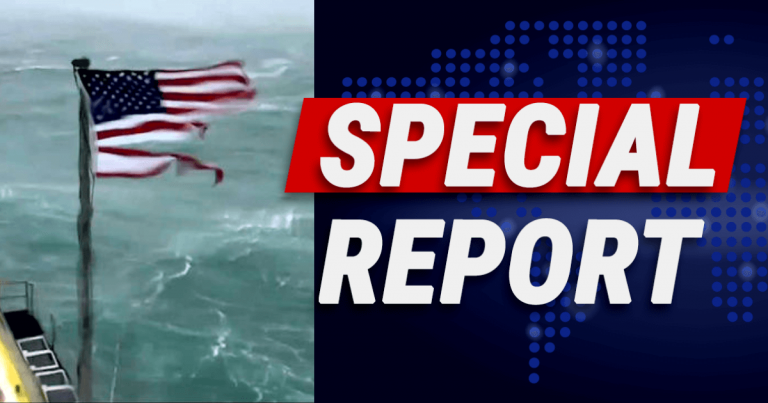 Normally a flag should be taken down when it gets ripped, but a patriotic man facing Hurricane Florence left his up to send a mighty message.
This past weekend, Hurricane Florence battered North and South Carolina and parts beyond.
It dumped unprecedented amounts of wind and water across the Eastern Coast of the United States.
Many are without power and large portions of the region are underwater.
As the storm made landfall a local Explore.org live cam revealed an American flag caught in the wind.
The owner of the flag—although facing some anger from the public—decided it leave it up, and he had a surprising reason to do so.
From News Observer:
Richard Neal, the owner of a bed-and-breakfast 32 miles off the coast of North Carolina in old Coast Guard tower, says he fielded several angry calls from veterans as Hurricane Florence approached…

Live footage at times has shown the tower's American flag, being shredded by the devastating rain and wind the storm is bringing with it…

"It was then that I realized that you can't make everyone happy, so I moved the feed back to showing the flag again. Because even if it was against flag protocol, that flag represents who we are as America. We get beat up, battered during hard times, but we stay up, stay at it through the storm."
Right now, Hurricane Florence is beating parts of the country. Some estimate the damage will reach $100 billion.
But, as always, the hard-working American people will recover. National and local efforts are underway to protect and save lives. People from across the country will come out of the woodwork to help those in need.
Rebuilding will begin almost immediately. These storms might hit us with setbacks, but crises like this reveal what true character Americans possess.
The battered flag, in a special way, illustrates that better than anything else.
Those caught in terrible winds, shredded and knocked around, Old Glory continues to fly.
That's true of so many Americans, even when the odds are against them.
Some might be upset that the flag is damaged. Others seem to find the truth, even in that image.
SHARE if you think leaving the flag up was patriotic!
Source: News Observer