After Florida Passes New 6-Week Law – Biden's White House Melts Down, "Extreme and Dangerous"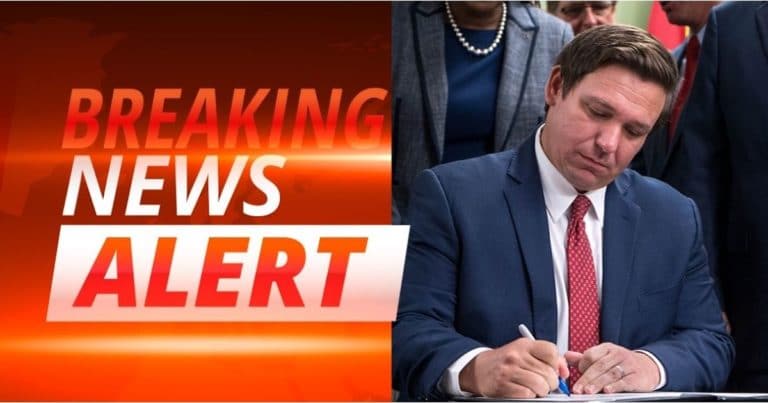 The Sunshine State has made several big moves since re-electing popular Republican Governor Ron DeSantis.
The state that was once purple is now solid red, and they're passing laws that reflect this clear political bent. However, this conservative haven is unsurprisingly ruffling a lot of feathers in D.C.
Now, Florida's latest historic law is definitely causing the Washington bigwigs to … well, see "red."
Gov. DeSantis has been a pro-life advocate for years and he has pushed for the strictest abortion laws in the country. And he just got his wish.
The GOP leader signed the Heartbeat Protection Act into law yesterday, which bans most abortions in the state after 6 weeks of pregnancy. It follows similar moves made by other red states like Texas.
Signed the Heartbeat Protection Act, which expands pro-life protections and devotes resources to help young mothers and families. pic.twitter.com/quZpSj1ZPk

— Ron DeSantis (@GovRonDeSantis) April 14, 2023
The new rule replaces the 15-week law, which DeSantis signed last year.
As expected, the White House quickly slammed the law, calling it "extreme and dangerous."
Democrat leaders have long since claimed that abortion is a "reproductive healthcare" issue, while critics wonder how it can be called "healthcare" when we're talking about killing babies in the womb.
There's also the Supreme Court overturn of Roe v. Wade last year, which is a very important component of this argument.
Nevertheless, White House press secretary Karine Jean-Pierre still said of the Florida law:
The ban flies in the face of fundamental freedoms and is out of step with the views of the vast majority of the people of Florida and of all the United States.
The latter statement is highly questionable according to many, as numerous polls show a fairly even split in the pro-life vs. pro-choice debate.
It's also important to note that the law – like all other laws of this nature – contains exceptions to save the mother's life for pregnancies involving rape or incest, up to 15 weeks.
Florida becomes one of 13 other states that have implemented strict abortion bans, but the DeSantis rule is one of the strictest. This is perfectly fine with those who believe a child's life should be protected.
In many ways, the Sunshine State has become wildly attractive to American citizens, which is why it was the #1 most moved-to state in 2022 according to reports.
That also seems to contradict the idea that the "vast majority" of Americans support abortion at all times, regardless of circumstances.
Key Takeaways:
Florida Gov. Ron DeSantis signed the Heartbeat Protection Act into law this week.
It bans most abortions after 6 weeks, while making certain exceptions. It is now one of the strictest abortion laws in the country.
The White House ripped the law, saying it's "extreme and dangerous."
Source: Washington Examiner