Florida Just Turned The Tables On California – They're Wooing The Popular Burger Chain In-N-Out To Move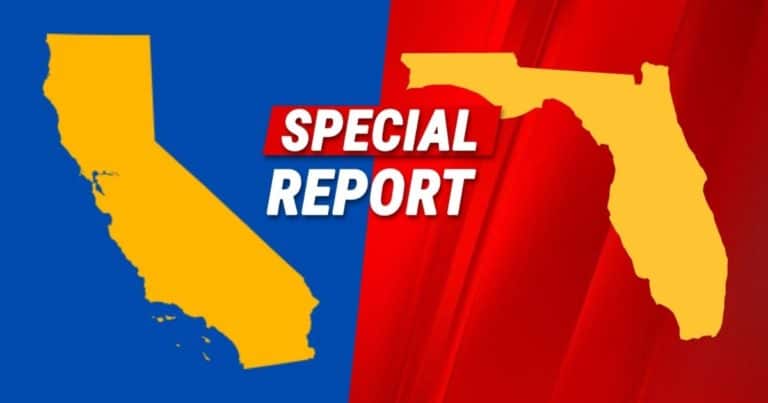 What's Happening:
All across American, businesses and residents are suffering. Democrat-run regions have been pushing radical mandates since last year. And although things should be better by now, some businesses are struggling.
In California, their far-left governor is forcing businesses to bow to an extreme mandate. Those who have refused literally have their doors closed. That is leading to lost revenue, jobs, and more. But blue states' loss is red states' gain, as Florida is extending an olive branch to one embattled business.
From Fox News:
Florida is inviting In-N-Out to open its doors in the Sunshine State as the fast-food chain continues to push back on California's stringent vaccine mandates…

"I applaud the courage that [In-N-Out owner] Lynsi Snyder has shown, but I know this, Lynsi, what I can offer you in my commitment on behalf of the state of Florida is you're going to be in a mandate-free state," [Florida CFO] Patronis explained.
Jimmy Patronis, the chief financial officer of Florida, invited In-N-Out burger to open up in his state. This comes after California effectively shut down the burger chain, which refused to obey its strict mandate. Patronis promised the owners of In-N-Out that they will not have to deal with that kind of anti-business policy in the Sunshine State.
This isn't the first time conservative Florida has jumped on Democrat-run state's failures. When cargo ships struggled to offload goods in California's swamped (and poorly-run) ports, Gov. DeSantis invited ships to go to Florida's ports. He urged ships coming from Europe to dock at one of Florida's many ports that already worked around the clock.
As cops were being forced out of work by other states' harsh mandates, the governor worked to offer them a $5,000 bonus, if they relocated to Florida.
It seems the state is seeing all the failure in blue states as an opportunity to shine. And these are powerful illustrations of how tyrannical the left has become.
Democrats in California think they can strong-arm businesses into doing what they demand. Gov. Newsom apparently sees himself as some kind of emperor, who thinks residents must bow to his whims. That's not how it works in a free country, bucko.
Already word has spread that entire California cities are being emptied, because people are fleeing. California is losing House seats because of this mass exodus. Now, we might be seeing businesses like In-N-Out flee as well.
You'd think CA Democrats would have seen the light, by now. But they might never learn until every last business is gone.
Key Takeaways:
Florida has invited In-N-Out burgers to open up in its state.
This comes after CA has shut down the company over its mandate.
Florida's CFO promised no business-killing mandates.
Source: Fox News