Seconds After DeSantis Jumps on Concert Stage – The Florida Crowd Erupts in Patriotic Chant of "USA!"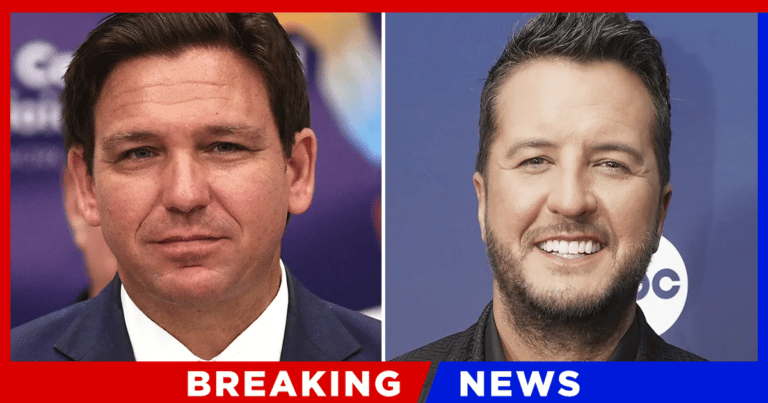 What's Happening:
Reports indicate that Democrats have totally given up on the state of Florida. For good reason, too. Gov. DeSantis has been just a powerhouse that even blue Miami-Dade County might go red. Liberals were hoping DeSantis would fail in his Hurricane Ian response. Just the opposite happened.
Recently, DeSantis made a surprise appearance on stage at a big concert in Jacksonville. Country music singer Luke Bryan shocked fans when he welcomed the governor on the stage. As soon as the Republican appeared, the crowd broke out in this chant.
From Daily Wire:
"We're going to have some fun and we're gonna raise some money tonight for the great state of Florida," Bryan said. "Ladies and gentlemen, welcome to the stage Governor Ron DeSantis."

[…]

"All you Florida voters, if you want to keep the state of Florida free, we need you to vote on November 8th," the governor said.

Shortly after the governor made the remarks, the crowd started chanting, "USA! USA! USA!"
DeSantis just walked out on stage at Luke Bryan. It's deafening in here. pic.twitter.com/WHelgPCxM1

— Bonnie Upright, APR (@bonnieupright) October 29, 2022
It appears the Country music star invited DeSantis up on the stage to encourage folks to continue to donate to the relief effort. So far, he has helped raise $50 million for victims of the hurricane through the Florida Disaster Fund.
But while appearing on stage, DeSantis was able to inspire the audience to chant "USA! USA! USA!" It seemed that fans of Luke Bryan were pleasantly surprised to see the governor appear at the show.
This is in stark contrast to what we often see at concerts and other events. Liberal entertains love to parade around failed Democrat candidates, thinking they can give them a boost. They want Americans to think that entertainers only support the left, making Republicans seem like outcasts.
But there are plenty of conservatives in the entertainment world, although they are forced to remain quiet. This surprising appearance by DeSantis certainly outraged Democrats, but they can't ignore the impact he is having.
Key Takeaways:
Ron DeSantis made a surprise appearance on stage during a Luke Bryan concert.
DeSantis was there to raise more money to help victims of Hurricane Ian.
The audience broke into chants of "USA! USA!" as he spoke.
Source: Daily Wire, Twitter