Florida Democrat Gillum's Cover Story Falls Apart – Now He Admits He Will Go Into Rehabilitation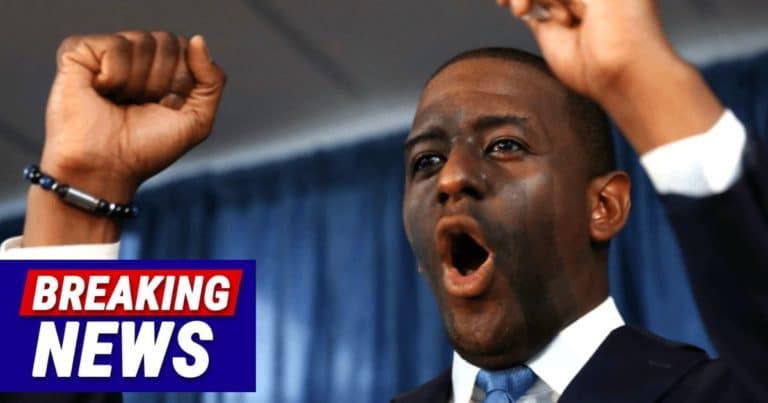 Remember Andrew Gillum? He was the far-left mayor who ran for governor of Florida. Thankfully he lost to a Republican.
But it looks like this socialist has hit a new low. He was found drunk in a hotel room with another man— who happened to be using illicit substances.
Gillum said he was attending a wedding—and that this man was just a friend. Wrong place, wrong time, right?
But now his story is falling apart.
From Heavy:
The man who rented the room, Aldo Mejias, 53, said he went to the room before midnight on March 12. Mejias said that he found Dyson and Gillum "under the influence of an unknown substance." Mejias said that Gillum had been vomiting into the toilet and that Dyson was unconscious. Mejias performed CPR on Dyson until the paramedics arrived. The incident occurred at the Mondrian South Beach Hotel in Miami Beach, Florida.
It's not clear if Gillum or Dyson will be facing any charges. Gillum was allowed to leave the scene and return home by officers.
Yikes. Looks like Gillum has fallen off the deep end. And many are wondering just what was going on that night?
Sounds like the once high-level Democrat is trying to do damage control.
And he's taking the same route as many Hollywood celebrities.
From NBC Miami:
Andrew Gillum, the former mayor of Tallahassee and Democratic candidate for Governor of Florida in 2018, announced he would enter rehab…
Gillum now says he's entering rehab after his little incident at the hotel.
Pretty scary to think this guy was almost governor of Florida, huh? Only a few short years later, he's at rock bottom.
Perhaps the local government should look into what he was up to? You don't just wake up high in a hotel.
Getting into rehab might help soften his image, but just because he's a high-profile Democrat doesn't mean he should avoid scrutiny, right?
SHARE to make sure Gillum doesn't get away with this.