Florida Reveals Reward for Hurricane First Responders – Gov. DeSantis Just Hand-Delivered $1K Bonus Checks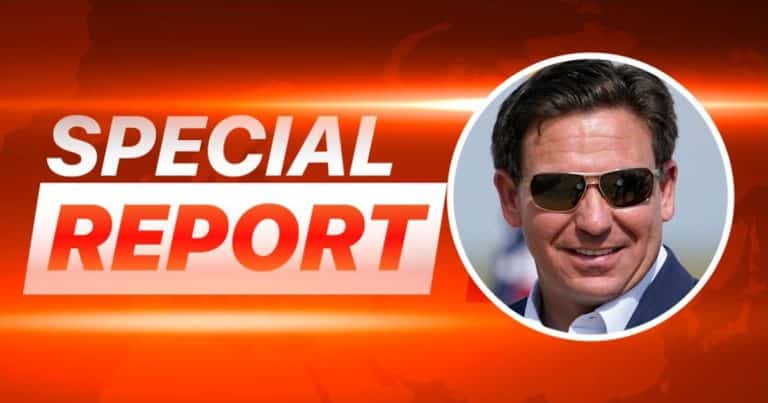 Hurricane Ian devastated Florida but many say Gov. Ron DeSantis handled the difficult situation quite well. This even included President Joe Biden.
And though some Democrat leaders criticized the Florida leader for his planning, the general consensus appeared to be positive after the storm moved on. However, it wasn't only DeSantis who helped.
Of course, first responders are always on the front lines in disaster situations — and thankfully, Florida's leadership understands that.
Back on June 2, Gov. DeSantis signed the "Freedom First Budget," which is designed to reward those who serve the state's communities in times of great need.
Hurricane Ian definitely qualified and as a result, Florida is handing out bonus checks to first responders. These will undoubtedly be appreciated, especially during a time when we're on the brink of a recession.
To top it off, the Governor himself hand-delivered several of the bonus checks, another move likely to improve DeSantis' popularity.
From Fox News:
Florida Gov. Ron DeSantis hand-delivered $1,000 bonus checks to first responders who worked through the Hurricane Ian response.

The checks were intended to be mailed to first responders before Hurricane Ian made landfall in the state, but couldn't be delivered to areas that were impacted by the Category 4 storm.
During an event in Sanibel Island on Tuesday, Gov. DeSantis distributed some of those checks, thanking those who worked "day and night" during the hurricane.
He highlighted the event in a Twitter post:
For three weeks, first responders have been serving in response to Hurricane Ian.

In the midst of the storm many first responders didn't receive their $1,000 bonuses and today I hand delivered their checks to show Florida's commitment to the heroes that never stop serving. pic.twitter.com/IllPetjePB

— Ron DeSantis (@GovRonDeSantis) October 18, 2022
There were another 400 checks that couldn't be delivered via the mail, so they're being sent to local governments "in an effort to provide first responders with these bonuses as quickly as possible."
Those who receive these bonuses are exactly who you'd expect: police officers and sheriff's deputies, paramedics, EMTs, firefighters, etc.
DeSantis' approval only seems to have strengthened in the wake of the storm; his wife recently announced a big boost in fundraising. Florida's leader also remains one of the most popular politicians in the country.
Most polls show him holding a very positive approval rating, and many assume he will run for President in 2024.
In the meantime, though, it seems obvious that millions of Floridians are happy to have Ron DeSantis as their Governor, despite plenty of pushback from Democrats in the Sunshine State.
Key Takeaways:
Hurricane Ian first responders received $1,000 bonus checks as part of the state's "Freedom First Budget."
Gov. Ron DeSantis hand-delivered some of these checks at an event on Tuesday.
The Governor thanked those "heroes that never stop serving," including police, firefighters, and paramedics.
Source: Fox News