Ford Dealership Goes Full Patriot – Offers Customers A Gun, A Bible, And A Flag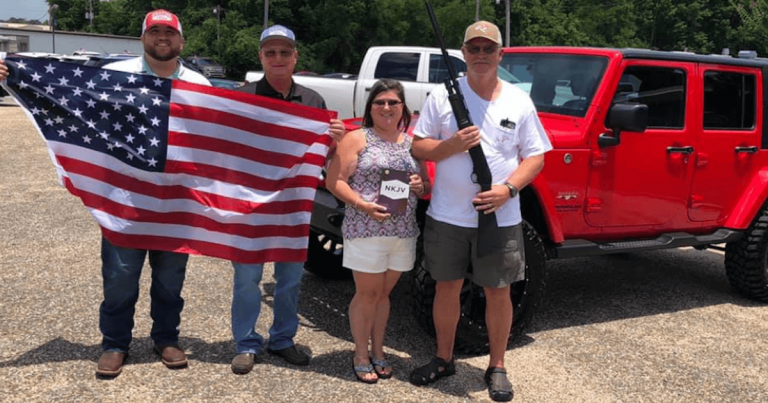 This dealership is all about traditional America, that's for sure!
July 4th is right around the corner, and one Alabama Ford dealership is celebrating in style.
This business, which obviously bleeds red, white, and blue, has launched a patriotic marketing campaign:
Any customer who purchases a new vehicle gets three free bonuses … and they're about as American as apple pie.
The name of this campaign is "God, Guns and Freedom," and I'm willing to bet it's going to be VERY successful.
I'm also sure liberals are going to really hate it…
From Fox News:
"A rural Alabama car dealership is giving away a Bible, a 12-gauge shotgun and an American flag with the purchase of any new or used vehicle as part of its Fourth of July sales promotion."
Chatom Ford's campaign has gone viral on Facebook, thanks to a video general manager Koby Palmer posted up.
This video – which has well over 60,000 views now – shows Palmer cocking a rifle in one hand and holding a Bible in the other, standing in front of a truck with the American flag draped over its tailgate.
That had a tremendous impact, obviously!
As for the message they're sending, Palmer had this to say:
"It's a safe community. They're very proud of their country and almost everybody here likes to hunt."
He further added that he doesn't want anyone to "get the wrong idea." It's not like they're just wandering around handing out guns, after all.
His dealership teamed up with certified firearm dealers in Alabama and Mississippi, and when a customer gets his parting gift for buying a new vehicle, he has to take the next step:
He must go to an arms dealer, who will then conduct a background check. Only when the background check clears will the customer get his gun free of charge.
In the end, this is about "showing support for our local community," as Palmer told USA Today:
"Anyone that doesn't 100% agree with what we're portraying, we're not trying to force our beliefs on anybody.

We respect anybody that disagrees, no matter how vehemently they do."
That's the American way … in case Democrats had forgotten.
So, what do you think of this promotion?
Is it a positive, patriotic, freedom-loving gesture, or do you have a problem with it? Let us know!
Source: Fox News