Bill Barr Blows the Lid Off D.C. Swamp – He Just Confirmed Millions of American's Fears: The "Deep State" Exists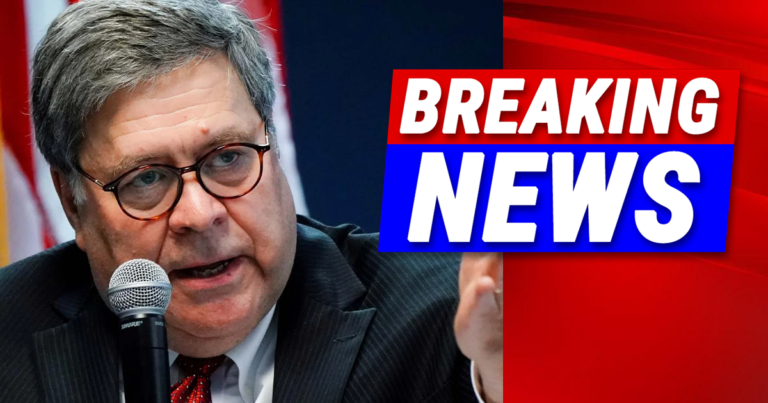 What's Happening:
The mainstream media and Democrats (same thing, right?) have long dismissed many concerns raised by honest Americans. If you dare say anything the left doesn't agree with, they will often call you a "conspiracy theorist" or worse.
This is certainly the case over one big elephant in the room. For years, conservatives have warned about this very threat, lurking within the halls of our government. But Democrats have laughed at us and even tried to censor reports about this very thing. What are they going to say now, after former Attorney General Bill Barr blows the lid off everything?
From Daily Wire:
Former Attorney General William Barr said during an interview this week that he believes the so-called "deep state" exists and that it is defined by people who use their roles as civil servants to pursue partisan political agendas…

"I am critical of the Deep State and believe it exists," he continued. "The way I would define the deep state is an increased willingness by more and more government civil servants to pursue political objectives, rather than stand up for the values of the institution they're a part of."
Woah. For years, Democrats and the MSM have written off fears from Americans about the "deep state." They have even tried to gaslight us by saying the deep state wasn't real and that we were paranoid about nothing.
Yet here we have a two-time U.S. attorney general, Bill Barr, who served President George H.W. Bush (who once ran the CIA) saying there is in fact a deep state. Barr confirmed many Americans' worst fears. He revealed that there are people working within government agencies who use their power to "pursue political objectives" over the values of those institutions.
That should be alarming news to every last American. These officials took oaths to uphold our laws and Constitution. But instead, they are abusing their vast power to help political parties, mostly the Democrats.
Not that anyone should be surprised. We know for a fact that the FBI has been trying to help Democrats for years. Former FBI officials wrongly investigated Trump over Russian claims. In 2020, top FBI brass suppressed the Hunter Biden laptop story, admitting it would influence the election.
Even now, the DOJ is appointing special counsels to investigate Donald Trump–just after he announced his 2024 re-election campaign. Anyone that doesn't believe there is a deep state trying to help Democrats gain more power is an idiot.
And that's just the tip of the iceberg. The good news? Barr said that, although the deep state is "bad" and "perverts the government," most civil servants do "an honest job." We've seen numerous whistleblowers expose the deep state, at risk to themselves. There are people within the FBI and other agencies trying to stop this corruption.
But will they succeed? And will those who abuse their power ever be brought to justice?
Key Takeaways:
Former AG Bill Barr revealed there is a "deep state" within our government.
Barr defined the deep state as officials who use their power to pursue political objectives.
Agencies doing this include the FBI, DOJ, DHS, the State Department, and others.
Source: Daily Wire