Tulsi Gabbard Sues Hillary Clinton – And It Could Cost 'Queen of the Warmongers' Up To $50 Million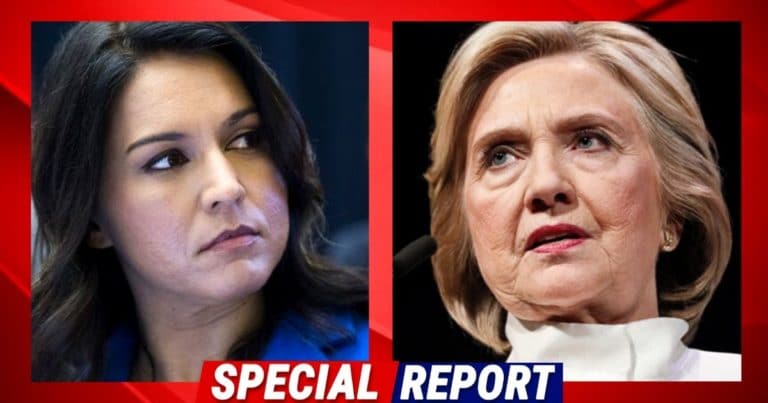 Looks like Hillary Clinton is finally on the hot seat.
The former Democrat presidential candidate has been criticized for calling out everyone from Donald Trump to Bernie Sanders.
But it's her remarks about Rep. Tulsi Gabbard (D-HI) that have backfired big time.
Now, it appears that Mrs. Clinton is going to end up in court.
Gabbard has officially filed a $50 million defamation lawsuit against former Secretary of State, who recently suggested that Gabbard was "a favorite of the Russians."
The moderate Democrat from Hawaii pulled no punches in her statement, issued by her campaign:
Gabbard … asserts in her complaint that Clinton deliberately and maliciously made false statements in an attempt to derail Rep. Gabbard's campaign, by alleging that Gabbard is a 'Russian asset.'
"Deliberately and maliciously made false statements." Hear that, Hillary?
The statement went on to say that Gabbard "is a loyal American servant." It also says Clinton damaged her "political and personal reputation."
The problem began when Hillary went on a podcast last October, and said "[Russia] has a bunch of sites and bots and other ways of supporting [Gabbard] so far."
Gabbard quickly took to Twitter with a scathing response.
She called Clinton "queen of the warmongers" and was on a "concerted campaign" to destroy Gabbard's reputation.
Furthermore, President Donald Trump leapt to Gabbard's defense: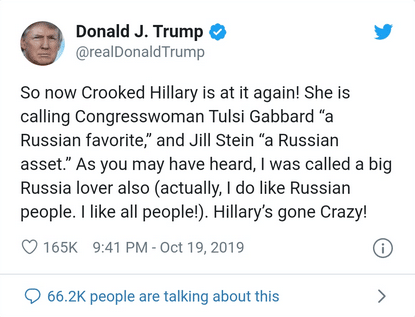 So now Crooked Hillary is at it again!

She is calling Congresswoman Tulsi Gabbard 'a Russian favorite'…

Hillary's gone crazy!
For years, many have wondered if Clinton would ever face any sort of punishment for her alleged misdeeds.
Well, this doesn't have anything to do with email scandals, but it's definitely significant.
A defamation lawsuit is nothing to sneeze at. And as a result, Hillary might face the inside of a courtroom as a defendant!
But Tulsi had better be looking over her shoulder after this move. This tweet gets it just right: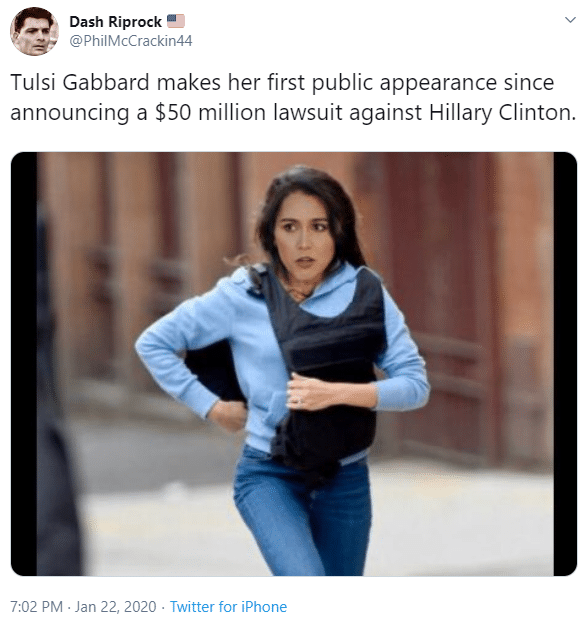 Wouldn't it be amazing to see Hillary in the courtroom, fellow Americans?
SHARE if you hope the judge finds Hillary Clinton GUILTY!
Source: Breitbart