Matt Gaetz Turns The Tables On "The View" – Sends Joy Behar Scrambling For Words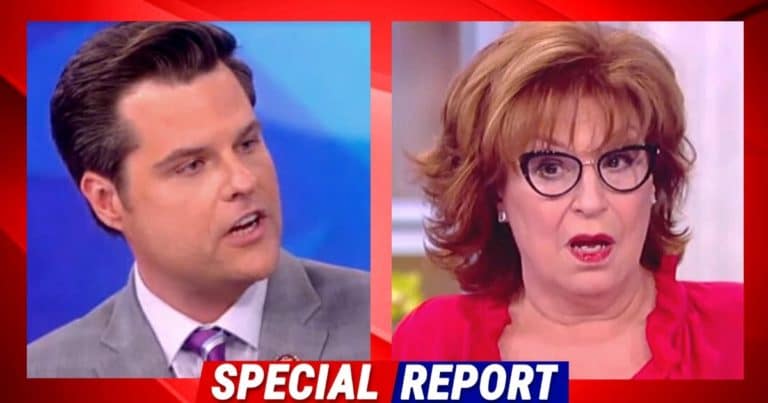 If you're a Republican or Conservative,  you're probably not a fan of "The View."
The liberal-oriented political show on ABC generally leans way left, and most right-wingers aren't big fans of host Joy Behar.
But there was a reason to tune in this week.
That's because Florida Republican Matt Gaetz went on the show — and pulled absolutely NO punches!
Gaetz, a straight shooter who rarely minces words, wasted no time in slamming the recent Democrat debate.
And that was only the beginning…
After Behar introduced Gaetz as "a man who has obviously never watched 'The View,' the fireworks began:
Gaetz wasted no time in getting to the heart of the matter.
I was just wondering if you were wearing black as a consequence of the death of the political left in the debate last night.

It was quite something to observe.
Of course, Behar wasn't about to give in, and quickly tried to defend the Democrats. "Let's give it a little time," she said.
But Gaetz wasn't about to let up. He said the Democrat party is in serious trouble and in fact, they're probably not even going to elect a real Democrat!
He's probably not wrong, either:
The Democratic Party is likely not going to nominate a Democrat.

They're going to nominate a socialist or someone who some time ago was a Republican.
Exactly! Do Democrats even have moderate leftists anymore? Or do they only have far-left extremists and flip-floppers?
Many viewed this week's debate as an absolute disaster for the Democrats, and some even admit that President Donald Trump was the big winner.
As for which of the candidates could actually beat Trump, Gaetz made his answer clear:
None of them.
Darn right. No Democrat currently on the presidential 2020 slate has a real shot against Trump, in my opinion.
Furthermore, I think the DNC knows they've got no real contenders. …which is why it seems they're getting desperate.
At any rate, it's great to see a guy like Gaetz roast those ranting liberals on "The View!"
SHARE if you totally support everything Rep. Gaetz said on the show!
Source: The Daily Caller