Matt Gaetz And Lindsey Graham Team Up On Biden – They Say Democrats Elected Joe To Be Their Puppet, Joe's Not In Charge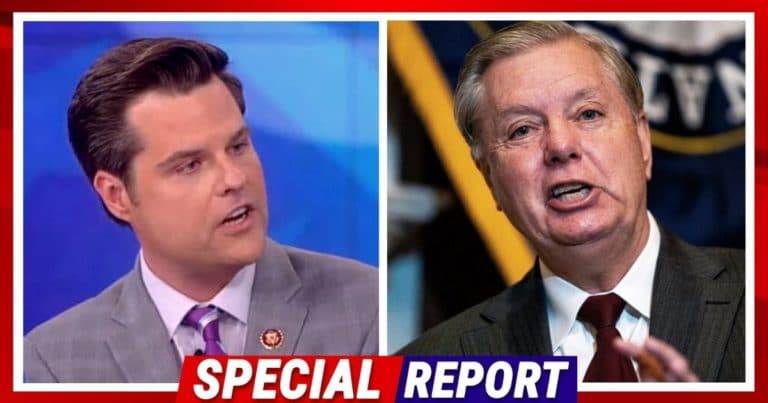 What's Happening:
You might be one of many Americans who wonder why Democrats put Biden into the driver's seat.
Sleepy Joe can't even finish a sentence, let alone make crucial decisions for our country.
Republicans warned that Biden was just a sleeper for the establishment. Now, Matt Gaetz is exposing their full plan.
From Newsweek:
Republican Representative Matt Gaetz of Florida has claimed that Democrats planned to elect President Joe Biden into the White House because he is "too frail" to stand in the way of their progressive agenda…

"'Sleepy Joe' wasn't just a political nickname, it appears to be a government strategy for the Biden Administration," he said.
And it seems Sen. Lindsey Graham agrees with Gaetz.
From Newsmax:
"I like Joe Biden, but the agenda is AOC [Rep. Alexandria Ocasio-Cortez, D-N.Y.], [House Speaker Nancy] Pelosi, [Senate Majority Leader Chuck] Schumer, Sen. Bernie Sanders," Graham told "Greg Kelly Reports" of his former fellow senator Biden.

"So, no, I don't think Joe Biden's in charge."
Why It's Important:
Lindsey Graham joined Matt Gaetz to slam the Biden administration. He claimed the "moderate's" agenda is that of radicals like AOC and Pelosi.
Graham went as far as to say the man is not "in charge."
It's hard to argue that, when you look at how he's been leading. He's enacted policies that made the border less safe, killed jobs, and set energy prices rising.
Nothing that he's done appears to be what a "moderate" Democrat would do. Especially since he and his Congress are refusing to cooperate with Republicans.
Biden claimed he would be a president for all of American. But his promises of unity went out the window the moment he entered office.
Does that mean he's under the influence of the radical left? Mike Pence warned us of that.
Gaetz and Graham would see more than what we're seeing. They would know better than us that Biden is just a puppet for other forces.
And they're not shy of letting us know.
Key Takeaways:
Matt Gaetz and Lindsey Graham claim Joe Biden is not in charge.
The Republicans believe he is doing the bidding of radicals like AOC.
The administration has not made good on promises for unity.