California Governor Turns Against His Party – Newsom's Midterm Prediction Signals His Election Aspirations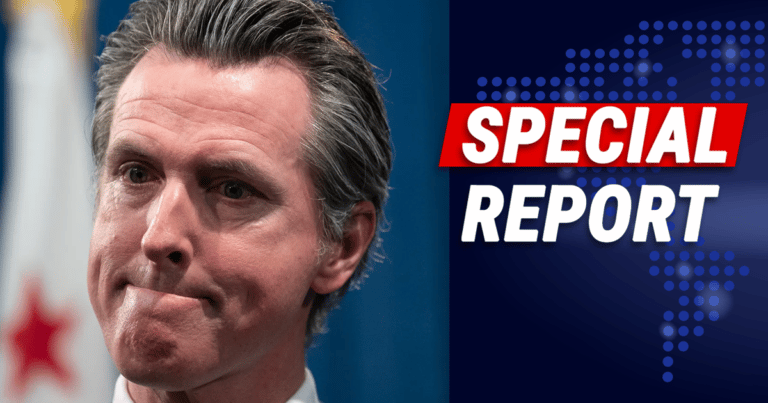 What's Happening:
It's no secret that Democrats are terrified of what's about to happen next week. They are scrambling, trying to downplay the polls and ramp up GOP attacks. Biden swung and missed this week, with yet another speech that made him sound like a deranged tyrant.
That could be why California Gov. Gavin Newsom is saying this. The leader of far-left California recently commented on Democrats' problems, going into the midterms. He pulled no punches to criticize his own party. But it sounds like he is gearing up for a big move.
From Daily Wire:
"We're getting crushed on narrative," Newsom told CBS News' Chief Washington Correspondent Major Garrett. "We're going to have to do better in terms of getting on the offense and stop being on the damn defense." […]

"We have to meet this moment head on, and damn it, the Democratic Party has to assert itself much more aggressively than we have."
Gavin Newsom was critical of his party during a recent interview. He claimed they are getting "crushed" by Republicans on the narrative. He said Republicans currently own the "mantle of freedom" as Democrats are seen by Americans as enemies of freedom.
Hey, when you lockdown schools, churches, and businesses for two years, Americans are going to call you that!
But Newsom wasn't trying to bash his party when he said this. He was clearly trying to make himself sound like a leading "voice" among Democrats. He even called on his party to engage in "bottom-up" organizing, something Obama was known for.
Sounds a lot like something a person would say… if they were running for president. Rumors have abounded that Newsom is building a network that he can turn into a 2024 presidential campaign. Even his recent attacks against Gov. Ron DeSantis could be part of that–since DeSantis is considered a GOP top contender.
Does this mean Newsom is undermining Joe Biden–who continues to claim he'll run for re-election? Uh… yeah! Biden is losing more and more of his ability with each passing day. His recent speeches have made him out to be an old, miserable, tyrant.
And if Democrats are slaughtered next week, the party will have to find a new leader for 2024. Newsom already foresees that and is trying to get the upper hand.
But he's going to have a tall hill to climb, considering he's as much of a failure as Biden. He can talk big all he wants, but hundreds of thousands of people don't flee your state because you're a great leader.
Key Takeaways:
Gavin Newsom criticized his party in a recent interview, saying they were getting "crushed."
His comments sounded like something a presidential candidate would say.
Rumors abound that Newsom is preparing for a 2024 campaign.
Source: Daily Wire