Gavin Newsom Could Become President Without a Vote? Former White House Official Lays Out Possible Biden Plan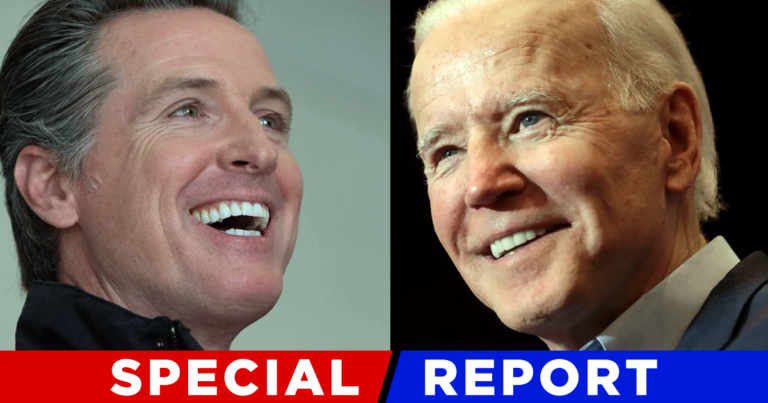 What's Happening:
Every so often, so-called political experts put forward odd, hypothetical scenarios that would up-end normal situations. Some claimed that Donald Trump could become president if House Republicans make him speaker and they removed both Biden and Harris.
Possible, yes. Is it going to happen? Not on your life.
Now a former Reagan-era advisor is claiming something even more radical could happen soon. As Democrats mull Joe Biden's future, it is possible he gets his successor in office without a single vote being cast.
From Daily Wire:
The plan was outlined by former Pentagon and White House official Douglas MacKinnon…

The plan MacKinnon described was simple: all President Joe Biden had to do was replace VP Harris with Newsom — after which he could resign, leaving Newsom seated comfortably in the Oval Office less the wear and tear from an actual campaign.
Clearly, MacKinnon's been out of the game for a long time. But what he suggests is possible, from a legal standpoint. He believes Biden can "make" Gavin Newsom president without a single vote. All he has to do is replace Kamala as his vice president, resign, and let Newsom take over.
The big problem? The 25th Amendment requires both chambers of Congress to vote to confirm a new vice president. Kamala Harris can leave or get fired. But unless Biden can convince a majority from both chambers to support Newsom, it ain't happening.
There are other problems with this move, of course. It doesn't give Newsom a new, four-year term. He would just finish out the rest of Biden's term, however many years that would be. Then, he would be forced to run for re-election, including fighting for the nomination from his party.
Would this situation actually help Democrats? Not quite. Newsom is the governor of the most liberal state in the country. California has become a laughing stock, as high crime, taxes, and costs drive thousands to other states.
Newsom might win a nomination, but he would be cancer to any American who doesn't want socialism to poison the rest of the country. As Nate Silver claims, this is a bad idea.
The competition is fierce but this is a top 5 worst political take of all time. https://t.co/cmZcc8dkc8

— Nate Silver (@NateSilver538) November 12, 2022
Maybe MacKinnon should go back into retirement.
Key Takeaways:
A former WH official suggests Biden could make Gavin Newsom the president.
Biden would have to replace Harris as VP and then resign.
Such a move would require support from both the House and Senate, according to the 25th Amendment.
Source: Daily Wire