George W. Bush Was in Grave Danger – Plot to Take Out Former President Through the Southern Border Thwarted by FBI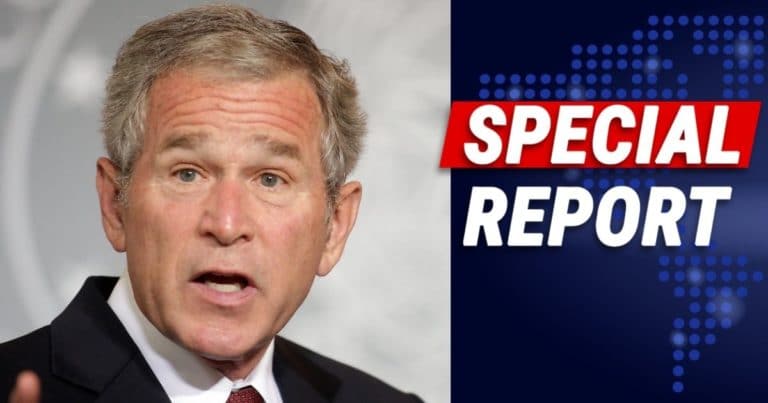 What's Happening:
We'd run out of room discussing the many problems generated by Biden's lax border policy. Millions of outsiders have crossed the border—only a fraction of them have been removed.
Many lawmakers, mostly Republicans, have warned that our open border can lead to disaster. They've even talked about dangerous agents getting through, but have been ignored by Biden.
Now, we have proof Biden's open border is a real threat. Because a plot to take out former President Bush was just thwarted.
From The Washington Free Beacon:
An Islamic State operative plotted to assassinate former president George W. Bush at his home in Dallas by smuggling assassins across the Mexican border, according to an FBI search warrant application obtained by Forbes.

The FBI alleged in the application that Shihab Ahmed Shihab Shihab, an Iraqi national residing in Columbus, Ohio, planned to sneak four terrorists across the border to kill Bush. The suspect, who filmed the former president's house in November in order to plot his assassination, was charged in federal court on Tuesday with aiding and abetting attempted murder, according to the Department of Justice.
Woah. This is sobering news. As Democrats ignore the great danger posed by our open border, villains were plotting an assassination attempt against former President Bush.
An Iraqi national living in Ohio filmed Bush's home in Dallas. He then planned to sneak four ISIS agents over the border to do the evil deed.
Apparently, this man was able to hatch this scheme because he knew the border was so unprotected.
The only reason he was stopped was because two "confidential informants" notified the FBI.
Keep in mind that this plot wasn't stopped because our border is so secure. Had nobody notified the FBI, would these men have been caught trying to cross over?
We can't be sure. Thanks to Biden, millions of undocumented people have jumped the border. Democrats want us to just look the other way as if these people are of no threat.
But this story proves otherwise. Because the border is unprotected, our enemies think they can come in, no questions asked.
If this is not a wake-up call for our nation's leaders, I don't know what is. But unfortunately, it doesn't look like Biden has been asked about it or commented about it. Very concerning indeed.
Key Takeaways:
The FBI stopped an assassination plot against former President Bush.
An Iraqi living in Ohio planned to assist ISIS agents to take down Bush.
He planned to sneak them over the unprotected border, thanks to Joe Biden.
Source: The Washington Free Beacon