After Biden Accused Georgia of "Jim Crow 2.0" – Democrats Sent Spinning by Record-Breaking Runoff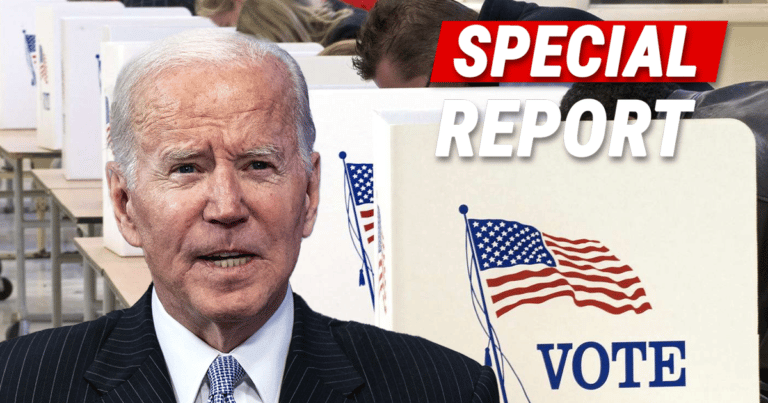 What's Happening:
Did you notice something that happened in this year's midterms? Or, betting put, something that didn't happen? There were zero reports of chaos in Georgia this year, unlike what happened in 2020. Why is this? Last year, the state passed a law that "made it easy to vote but harder to cheat."
That law was blasted by Democrats, claiming it would prevent minorities from voting. Joe Biden released a very underhanded statement, accusing GA lawmakers of being racist by calling the law "Jim Crow 2.0." That was an ugly, despicable comment that triggered a host of attacks against the Southern state.
I wonder if Biden is going to apologize, now that Georgia voters broke another record?
From Daily Wire:
Georgia broke another voting record Monday, as more than 239,000 early voters came out to the polls in a single day to cast their ballots 2022 senate runoff election between incumbent Senator Raphael Warnock (D-GA) and GOP challenger Herschel Walker…

Democrats warned the legislation would usher in a new era of "Jim Crow 2.0." President Joe Biden said it would make that previous era of American history look like "Jim Eagle."
Despite the new voting law Democrats claimed would suppress voting, Georgia voters broke another early voting record in the runoff race for Senate. A whopping 239,000 voters came out early to cast their ballots for either Warnock or Walker.
This destroys Democrats' claims that the new voting law, passed last year, would somehow prevent black voters and other minorities from voting. In fact, just the opposite has been true. More Georgians are voting and there seem to be little signs of problems (unlike in Arizona, whose voting system is a dumpster fire).
So, where is the apology, Mr. Biden? Joe's remarks were irresponsible and destructive. Major industries decided to boycott Georgia over what Biden said. Major League Baseball pulled its All-Star game in 2021, depriving the state of massive revenue. Many Hollywood studios pulled productions from Georgia, costing residents jobs.
All because Biden and his party wrongly attacked Georgia. But they've yet to admit they were wrong and make amends. That's pretty typical of this "president," who constantly hurts America but refuses to take responsibility. How ridiculous.
Key Takeaways:
Early voting in Georgia's runoff has broken records.
This comes as Democrats claimed the new voting law would suppress voters.
Joe Biden even called the law "Jim Crow 2.0." He has yet to apologize.
Source: Daily Wire